So, my current cross stitch pieces have been chugging along. I try to stitch in the evenings when my kids have gone to bed, or at least pretend to go to bed :) I have been stitching for about 6 years now, and have only been serious about it this past year. I found a great shop Acorns and Threads here in the Portland area and they got me really hooked on it again.
I started the Mermaids of the Deep Blue by Mirabilia in February. I am stitching this for my friend in Utah, and I just think it is gorgeous. I have been kind of doing a rotation, so that is why they aren't done yet. This was a project of many firsts, first time using linen, and first time using metallic thread. I love it though. I think it'll be hard to give them up, but it'll be worth it to see my friend freak out and fall in love with them even more.

This project has been in my life for about 4 years now. It's HUGE and was one of the first ones I really started and wanted to finish. I work on it sporadically. It's beautiful, and I am getting closer to seeing it finished. It is The Four Seasons by Marjolein Bastin. I can't wait to hang it on my wall.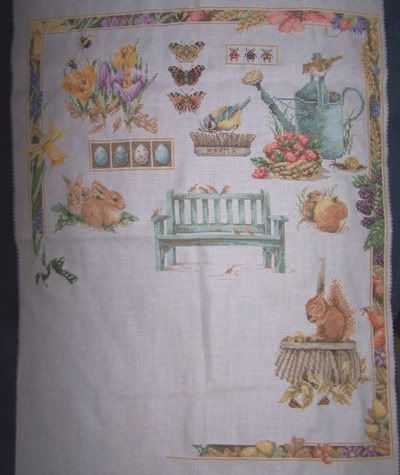 This project is The Snow Catchers by Fanci That. It's so cute! I'll probably have this done in the next few weeks, I'll make it into a wall hanging for my house during Christmas time.