Since I get my machine back tomorrow, I've been fiddling with an idea that I've had in my head for a long long time. Ever since I discovered Batik fabrics. My husband and I are in love with the ocean. I saw Batik's and just adore the greens and blues. I have slowly built up a collection of them, because I just can't say no to them, and they are never the same. So I have this idea of an Ocean Waves quilt, not the traditional ones I have seen, though those are stunning. This will literally look like ocean waves. Since I don't do appliqué, I drew up a block using squares and triangles that I think looks like a wave, and then I wanted to make a sun to put on top, like you are looking out at a sunrise… or sunset…
I want to make it a queen size for my bed, and have big blocks (21.5" Square) 4 wide x 4 long with strips between each block to separate them. This is so hard to explain (I am not good at explaining anyway) I did some blocks up on AutoCAD, and then printed them and traced the block pattern… I am bored at work okay? :D Tell me if I am crazy, or if the wave is ugly, or whatever. Opinions are good.
Here is the layout. Imagine a 2" strip of coordinating fabric between all of these blocks.
The sun would be on top, then two rows of waves, and then a beach/sand row on the bottom.
Here is what I picture the sun layout as, using all different kinds of yellow & orange batiks. I think a sky blue would look good as a background for this row.
Here is the wave, picture this in all different kinds of green/blue batiks.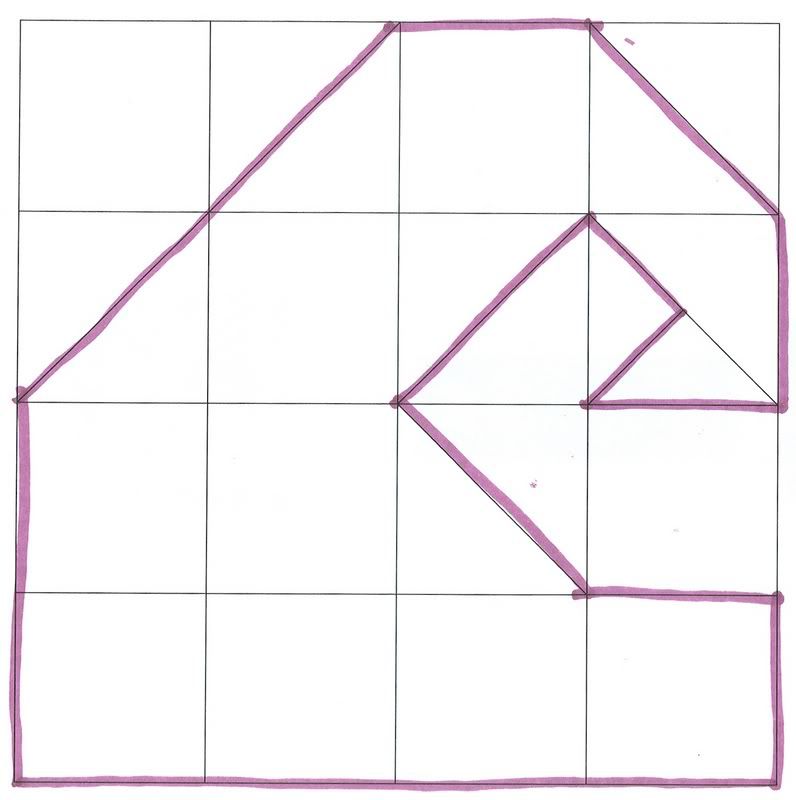 What do you think would be a good background for this wave block? A lighter blue? A white, like waves crashing? or a deep green like the depths of the sea?
So this is my idea, I love the idea of it, but would it look good, or bad?? Hmmmm…..