My sewing machine is back, and I am a very happy girl. I got several "swaps" taken care of. I am doing a block birthday swap. Two of us are in January, so I had to get those made. I was in a mild panic not having my machine, I have never been late on a swap, I would have felt awful! I then finished the "From My Heart" Valentine exchange, it required a lot of sewing too. It looks fantastic. I'll be mailing that this week. So I can post pictures of it soon.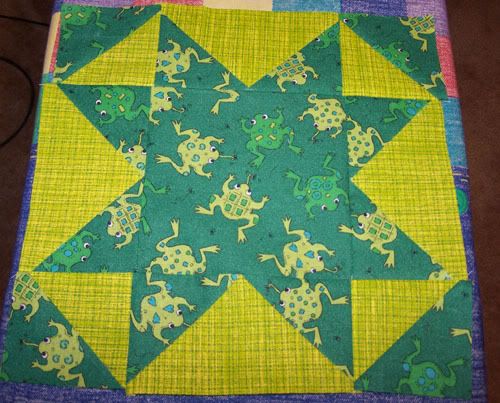 I've been working on my mom's quilt again. I got all 10 rows of 8 blocks completed, now to just sew the rows together and add the border. Here are 3 of the rows sewn together, isn't it pretty? I stopped here last night, I was tired!
I have also started my ornament for the SAL group almost everyone has joined :D I wanted to get a head start, just because I felt like working on this piece. It's from the JCS 2006 ornament magazine. It's the little blue house with the sheep and pine tree. I can't remember the name of it right off the bat. It's cute though! A lot of people have done this one, and I just love it too.
yes, the Canned Nuts at the cross stitch night was really nice. They gave us a small acorn kit, with a frame and everything, and lots of food. I enjoyed meeting some other stitchers and the kit is cute too. I think it was too expensive for what it was, and I don't think I'll be attending again. But it was a fun experience :)