Could you believe it, I get to the campsite and realize I had forgotten my camera!?! The shock and horror of it! I was kicking myself the whole time I was there. I am such a picture nut. Anyway, my husband did have his camera phone which isn't too bad, so we got a few shots! :D Camping and being in the great outdoors really revived me. We stayed at Nehalem Bay State Park and our campsite was a sand hill away from the ocean. It was beautiful! We went beach walking, surfing, boating, caught crabs, chased birds, ate s'mores and just had a good old time :D
My friend and I are quilt nuts and it's all her fault I like quilting so much anyway, she's the one who taught me the basics, gave me her old machine and sent me on my way :) We were able to go to the quilt shop in Cannon Beach. Not only was everything 25% off, but they had an amazing selection. It was so much fun! I bought a few things of course. I was able to find the rest of my batik fabric for my wave quilt. I had been searching for fabric I thought would be good for the sky, and for a strip of sand at the bottom. Here is what I got! The sky is the one on the right and the sand on the left.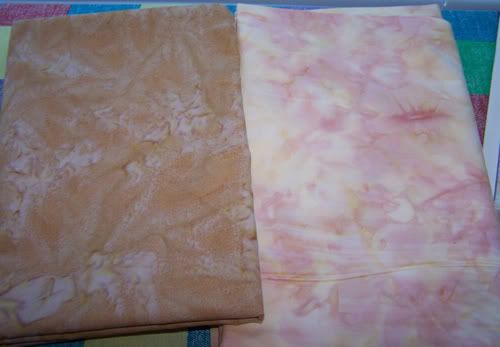 Hopefully I can get working on this quilt some more in the not to distant future.
Then I found this pack of fat quarters, aren't they gorgeous? I am not sure what I'll use them for yet. But I just loved them.
They had little bags full of "dot" fabrics. There are 50 kinds of dot fabric per pack, each square is 6" x 6". I had to get one, how fun is that? I was thinking of making little bags out of some of them for my kids.

Then there was this great book by Atkinson's Designs called Happy Hour. It had a few quilt patterns, bag patterns and table runners. I thought they were all awesome. I love the quilt on the front…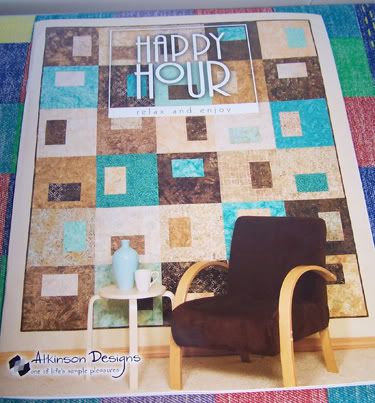 And look at those bags! How cute are those?
And then this quilt is great for batiks, and I was thinking of using my Hawaiian fabrics with this pattern, it seems like it'd work well :)
Also I did get some stitching in, I finished my May block of the Bent Creek Snappers. I was so tired when we were driving home, I was finishing some of the border and I fell asleep doing it LOL! That was a first for me. It was like I was in slow motion. I did get it done for the month so that is good.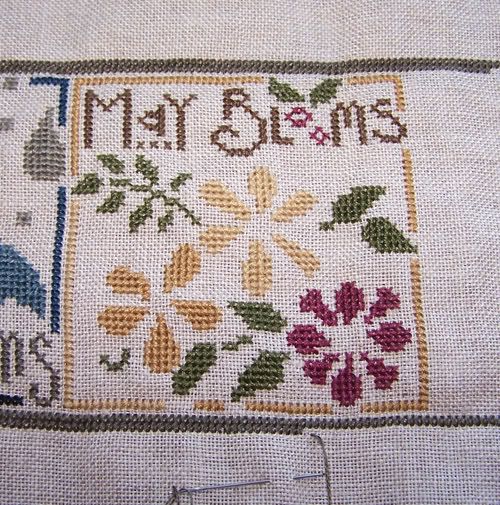 I am now going to finish my RR this week and get ready to receive one! :D