Hi there! I hope everyone had a nice weekend, and got a lot accomplished :) I have been doing good. The weekend was a lot of fun. We are still remodeling the living room, though it is coming together so nicely now. We got new blinds & new doorknobs for all of the doors downstairs. They really needed replaced. So that was nice! We went and saw the movie Surfs Up with the penguins, I was surprised with how much I enjoyed it. It was SO hilarious! :D So, I recommend it. I think Mark and I liked it even more than our kids :D
I have been stash shopping on the internet. I placed an order with Jenna at One Star's Light. I ordered a pattern, and she has been so great to find the threads needed for it, so I can have it all ready to go when she ships it. I think it's great! I also ordered some dinky dyes silks from her. I have never stitched with silk before, everyone is raving about it, so I have to try too!
This weekend was the stitch-a-thon weekend on the Friends Gather BB. So, seeing as I have a lot of work to do on The Four Seasons I decided to join in. I am so close to having that huge border completed now! Here are some WIP pictures I took.
(if you look at my previous post you can see where I started from)
This was taken on Saturday after several hours of stitching…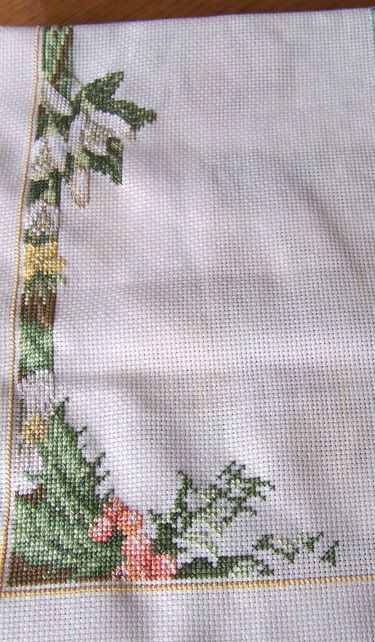 And this was taken Sunday after a lot of work too…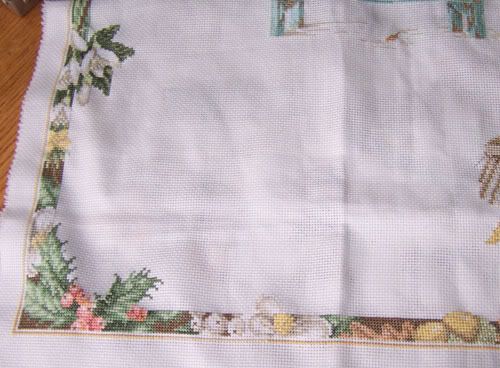 So, I am very close to completing that border, woo!
I finished my USEBB 4th of July Exchange as well, so I am mailing that out this week. It turned out cute :)