Yesterday was the best mail day ever! I received the 4th of July Exchange from my partner on the USEBB :D
Marie
had my name, and she really out did herself (as she always does) She is amazing at finishing, and stitching. I hope to be as good as her someday! :D
She made me a tin, and on it she stitched BOF Liberty, 32 Count, over 1. It is so tiny, and yet her stitches are just perfect. My husband even checked it out and was really impressed. It is just beautiful! She lined the tin with nice fabric too :)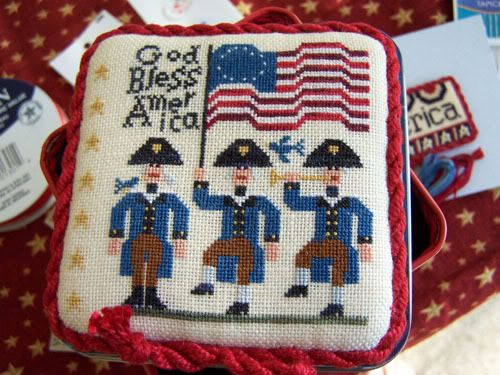 She also made a little pin, the designer is The Goode Huswife: America, 40 count over 2. So cute!
And lots of goodies. I'll use those fat quarters right up :D My living room is decked out in Americana, so this will all fit in really nice.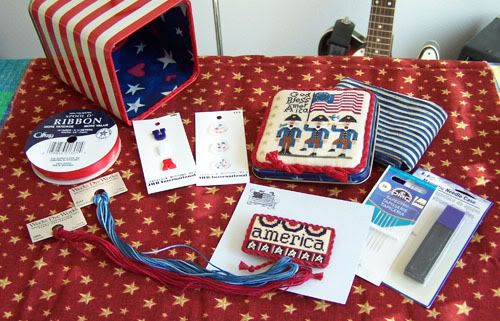 Marie, thank you so much, you are the best!! She wrote in her card that she had to really make me something nice since she liked the exchange I sent her for Valentine's day so much. And I felt I had to make her that because she made such a beautiful ornament for me for a Christmas exchange! :D LOL! I am enjoying this :D
Thank you so much for your comments on The Four Seasons, they really are keeping me motivated! I plan to keep on working on it for sure now. That border was a big hurdle to get over, now it's just small motifs and I'll be done, I can do it!