I saw this quilt in a shop Undercover Quilts in Seattle, isn't it beautiful???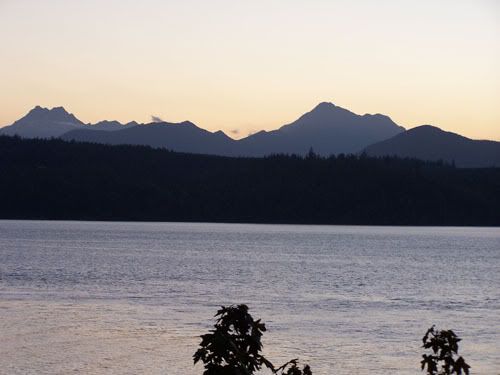 This is a view of the Olympic Mountains near Seattle, it's a 5 minute drive from my cousin's house to see this, it was gorgeous!
Mark picked the big sunflower to dry it out, look at that thing, Curren could barely hold it up!
You know after you have company over for a long period of time, when they leave it takes awhile to get your steam back? I am just exhausted! LOL! I need to have another vacation to recuperate. It was not like I did a whole lot while they were here, you just are thrown off of your normal routine. So the past couple of night I haven't done one thing. I've been nursing a cold too, but that will be better soon. But that isn't helping me get back to normal either ;)
I'd been working away on Debby's NRR the past couple of weeks. I like this so far, it has been a challenge to find the time to sit and work on it this month, with my company and school starting and stuff. I will add a gate and some flowers to the right side of the house and a few animals in the front yard. I used a house from a Prairie Schooler chart, and the quilts and tree are from the LHN: Quilt time sampler chart. She said she wanted a country theme and what we'd like in our country house. Well quilts sound awful good to me :)
Also, I have received my Round Robin back from it's trip across the globe. It went everywhere! Iceland, Europe, and the USA. What a lot of fun it was! It was through the Jayne's Attic BB. Everyone over there is so sweet if you ever have the chance to meet them. I had them all stitch two Prairie Schooler charts, Autumn Leaves and Winter Winds on a piece of white linen. I think I'll turn them both into flatfolds so I can display them easily. The stitching on them is beautiful. Thank you to all of you who stitched on this.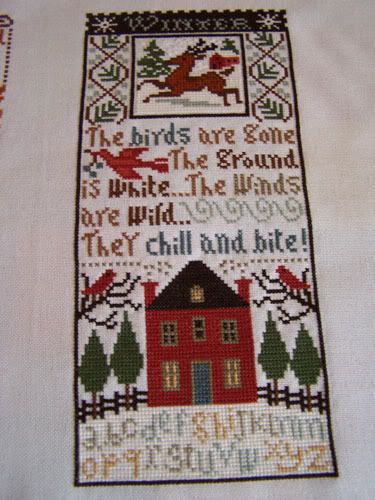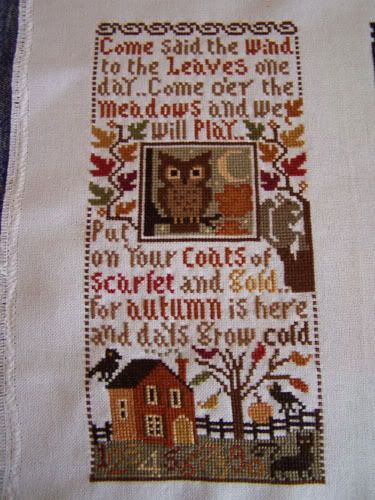 Dusty was who mailed to me each time. Her DH had to undergo surgery during the time she had my chart. I told her to take her time with it, and not to worry about stitching on it. She was so sweet to me, and included a beautiful chart by Keslyn's. It is called "Smile" She even included the threads for it. I was very pleasantly surprised to find that in the package, what a sweetheart. Thank you Dusty!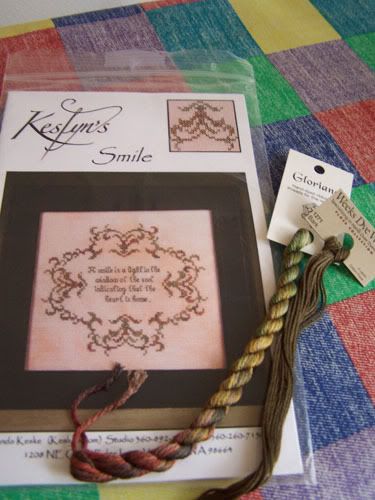 My husband's birthday was yesterday, we got him some new wetsuit boots and gloves, and a new shirt. He was happy for that! I also made him chocolate cake, yum :)
I am sorry I haven't been doing very well about leaving comments, between work, being sick, and all of that I have just been reading your blogs (I am addicted!) I'll be better to you all though. Thank you for taking the time to stop by and visit! This was a long post, I have so much to talk about LOL!