I heard from the group moderator Dawn that my exchange was received for the USEBB Halloween Exchange. We had the wrong address initially so it was returned to me, and I had to re-mail it to Debbi, I am so glad that it got to her safely!
I loved this exchange, I had so much fun making this for Debbi. I stitched Halloween Sampler by Lizzie Kate, and finished it into a cube (big surprise eh?). I found the most perfect fabric for it too, all of the stripes matched!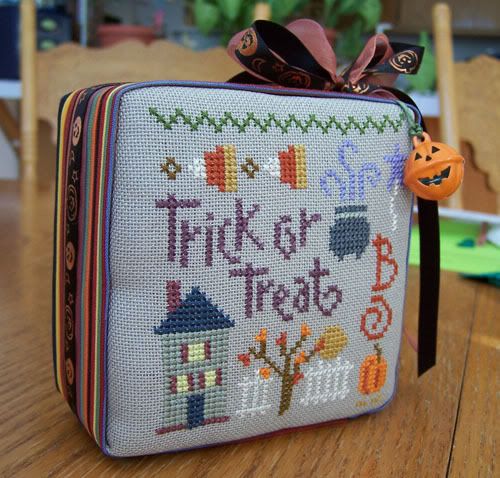 I have finished another exchange, but can't show it for awhile since it's for Christmas. Go me! I finished early :D I've also been working on a simple stitchery wall hanging, I have to do the finishing on it though, and then I'll show it off :) It was fun to stitch something a little different, I've never just done stitching on muslin before. It'll be a birthday gift for a friend of mine.
I am thinking my next project will be the lighthouse, and also work on the 4 seasons if I am in the mood. If you haven't noticed I have to be in the mood to work on things. If I am not feeling it... I won't do it.
Over and out!