Did you all have a nice weekend? We had sunny weather again, and I was so happy about that. Spring is here and it has been good to see the flowers blooming, and the trees turning green again. Saturday I took the kids for a walk behind the library, it's full of ponds and walkways, and ducks :) There were a few baby ducks swimming around, so cute! Jessie wanted to take one home, but I am a mean mom and wouldn't let her.

My birthday on Sunday was very nice and relaxing. I got an ice cream cake yum! I also got to take a long nap. After I woke up, I wondered why I don't take naps more often? Here is a picture for you all, I am now 28 years old :)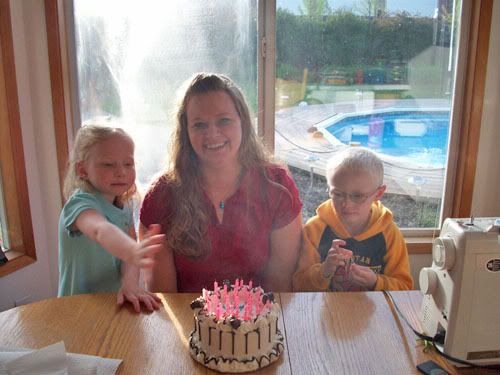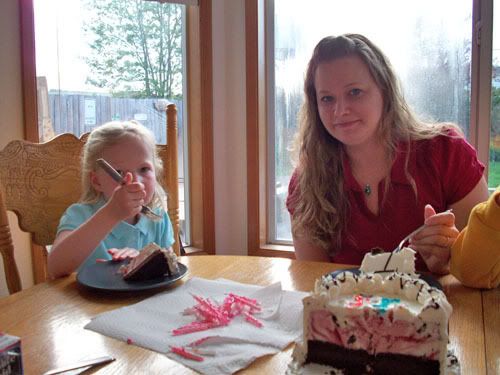 I like how I didn't even clear off my sewing machine from the table LOL!
I have decided I am going to start a new project (because I need another one). I had quite a bit of the threads in my stash, but ordered the rest from EHandcrafts. Mary Kathryn has wonderful service, so go check her site out! Here is what I kitted up to stitch.
Blackbird Designs: Sunflower House, perfect start for spring I think! :D I have been wanting to stitch this forever, and decided I should now.
I got a pretty good start on Dani's NRR, I am doing a big castle. Fun Fun! I've never stitched a castle before.
In other good news I finished all of the rows for my Star Lights quilt, I even ironed them all. So now, I get to sew the long rows together and the top will be done. Woohoo! I'll take pictures of it when I get further along. I also finished stitching my Fair and Square block for the 4th of July exchange.