So many things to do… I am kind of at a stand still, because I have too many things to work on and I am not really sure which one needs my attention first. I wish I was one of those that could start something and not stop until it's finished. I shouldn't dwell on that because we all know that I can never be like that :) I've seen so many inspiring finishes lately!

Thee Handworks
has just finished a beautiful quilt, I love it! AND she takes wonderful photos :)
Michelle at
Cozy Egg
finished her wedding quilt just in time for her anniversary… love the red and white!
Staci at
Snippets and Stash
has been stitching the cutest little birds, all free charts by the way. Yes, I saved them because I must stitch these!
Quite Quilted
is celebrating her 200th post, and doing a giveaway for the cutest cards! Go check it out :)
I could go on and on really. I love everybody's blogs. I've been bad about leaving comments lately, I feel rushed so much of the time.
I finished Flax Fields into a pinkeep (a big one) and bought a little plate stand for it to display on. I then wrapped it up and mailed it to my Great Aunt Phyllis. She has been through a lot lately with cancer, and is just getting home on her own. She is a light in my life that I love so much. I got off of the phone with her today and she just loved it. I am so happy that she does. I wish I lived closer to her, she's in Utah. I would be visiting her often if I did. Her birthday is next week, so it was a welcome home gift and a birthday present all rolled into one :)
Here is a photo of us from Thanksgiving 2007. A few weeks before she had her surgery.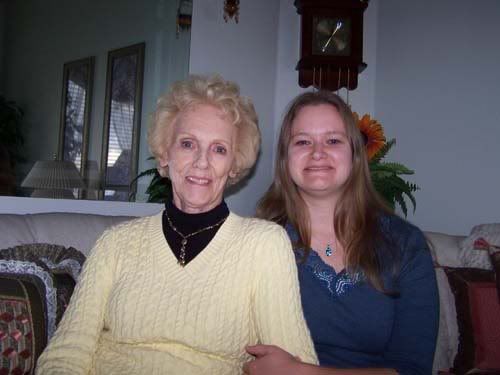 Other things I am working on right now… let me see…
I started LHN's thread pack called "Blessed are the Pure in Heart", and am close to having that done.
And I've been working on my Star Lights quilt. I've got 10 more rows to sew then I have to iron and sew the top together. I am loving this one so far! It has all of my favorite colors… red, blue, green… I am so predictable. I need to branch out of these colors a little, but I just can't help it :)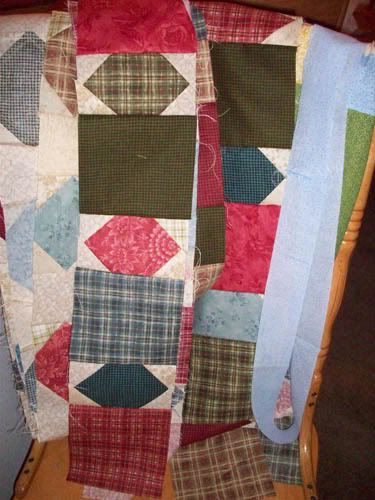 I went ahead and ordered my QSnap quilt frame from JoAnn's. I am looking forward to receiving it.
We had a great weekend, the weather was awesome! We went to Indian Beach and had a great time. And here's a photo of the crazy dog Sunny.