It's May, my how April flew by! We had such a fun time too. The kids are a year older, and so am I! Last Tuesday was my birthday I am the big 30 now. Awesome right? Mark was good to me, I had a wonderful day, and I feel very blessed to have my family. Did you know there is only a month and a half of school left?? Hmmm… I am not counting down at all ;)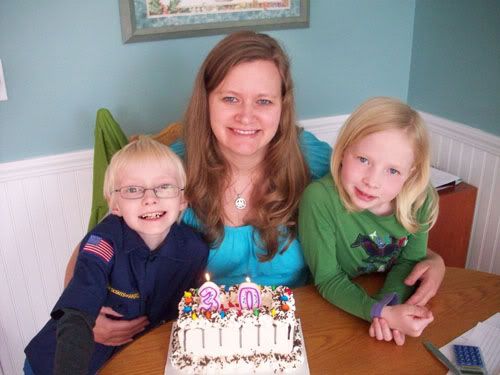 So, May... I have a few plans, here is what I've been working on so far.
On Sunday I finished piecing my Summer Porch quilt top, isn't it pretty? I need to get it basted and quilted now.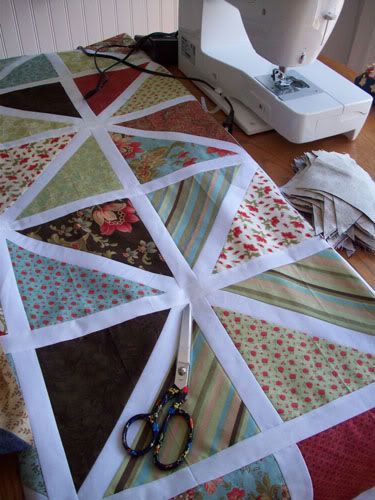 Then the May Schnibbles quilt is a "choose your own" I have this pattern Nash, along with Cotton Blossoms fabric all picked out. I have this kitted up for awhile now, I am glad to be using it up!
Here is the pink and green baby quilt I put together. Really simple and clean. Love it!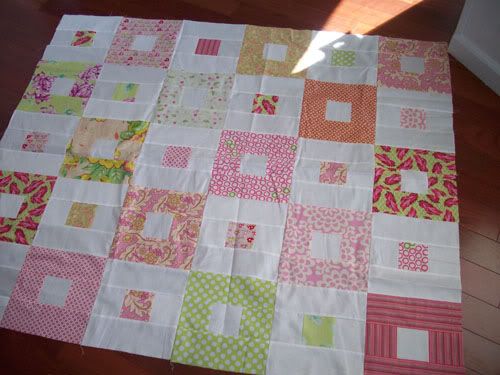 April Review:
Piece backing and baste Spring Stars Quilt *backing is pieced*
Complete Summer Porch Quilt Top *nope*
Make the April Schnibble Quilt *yes*
Work on Plant the Seeds *yes, completed it*
Also in April: Made the Pint-Sized quilt, started an Americana quilt for my boss, started the Hexagon Quiltalong, started a cross stitch exchange, made a pink/green baby quilt top
May Goals:

Baste Spring Stars Quilt Complete Summer Porch Quilt Top
Make the May Schnibbles Quilt
Work on cross stitch exchange
Piece backing for Nikki's Veggie Quilt
Baste and Quilt pink/green baby quilt

I am hosting a baby shower this month for a friend, I can't wait. It'll be a lot of fun. Do you have any ideas for it? If you do, let me know! Have a great week.