Teach us, that we may feel the importance of every day, of every hour as it passes.
First of all, I'd like to wish all of you a Happy Thanksgiving!!! I hope you are able to be with the ones that you love today. We were going to drive to Utah yesterday, but the weather has been so bad we decided to just stay home and be safe. I am so thankful for my husband and kids, they are amazing, and I am very blessed to have them in my life.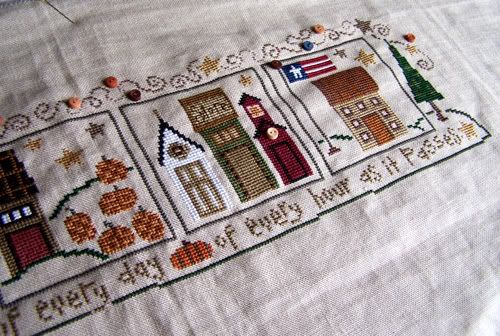 While watching the movie Mamma Mia last night (have you seen it?? Super cute), I finished stitching Snapperville by Bent Creek. I added the buttons to it this morning. It is called "Snapperville" because you are supposed to add snaps to it, but I wanted buttons, so I guess I could call it "buttonville" but then that would just be silly wouldn't it?? :)

This took me several years to finish, but that is okay! I enjoyed working on it again this fall. Now to pick up another WIP that has been sitting in my bag far too long. All of you enjoy this wonderful holiday, and thank you for visiting my little blog.