Guess What??? I finished my lone star quilt!! That is right! The quilt I've been wanting to make ever since I started quilting, 11 years later, here it is :)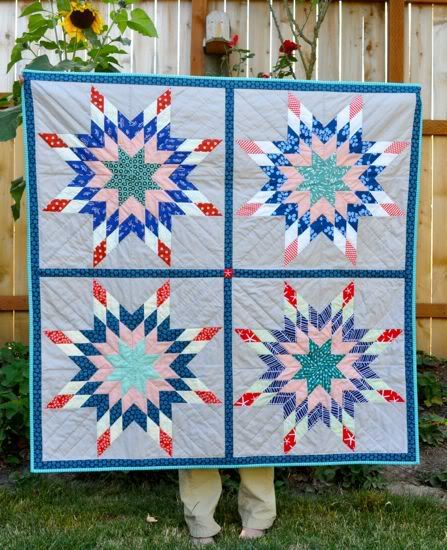 I used the pattern by Minick & Simpson, for their American Banner Rose fabric collection. I just did the stars, no extra borders or anything. It'll fit above my bed perfectly. Yes, I am hanging it on the wall for awhile.
(American Banner Rose Quilt Pattern by Minick and Simpson)
I avoided making this quilt because of Y-Seams. They really are hard, I don't care what all of the ladies on the Youtube videos said, I ended up figuring out how to do them on my practice block. You can see the earlier
POST HERE
on that. So, I had figured it out, but was not looking forward to making 4 blocks with 8 Y-Seams each on them. A lovely blog reader,
Dolly,
left a comment saying:
"I can't remember where, but the other day I ran across a blog post where the person had split the corner square into 2 triangles, so that they could sew a triangle onto each side of a diamond point, and thereby avoid doing a y-seam, she split the triangle between two diamonds that way"
Dolly, thank you! I love having a blog, it is fantastic!! I managed to find some information on it, and made my quilt blocks in record time!
I had the cutest ship fabric for the backing!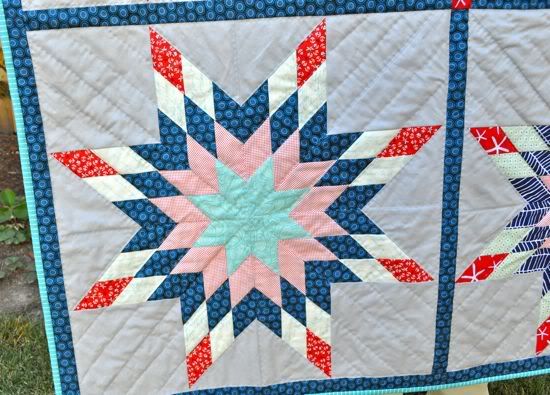 I used a light gray solid for the background, I thought it really made the colors *POP*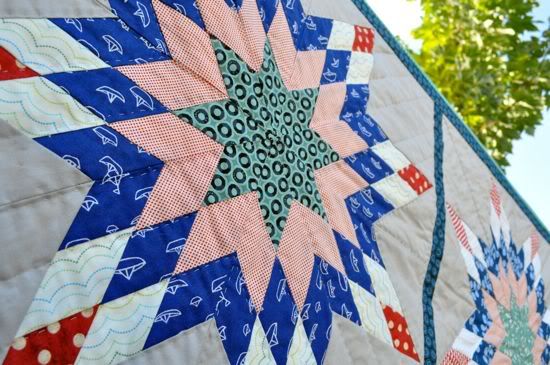 I fussy cut a starfish for the center sashing *so cute*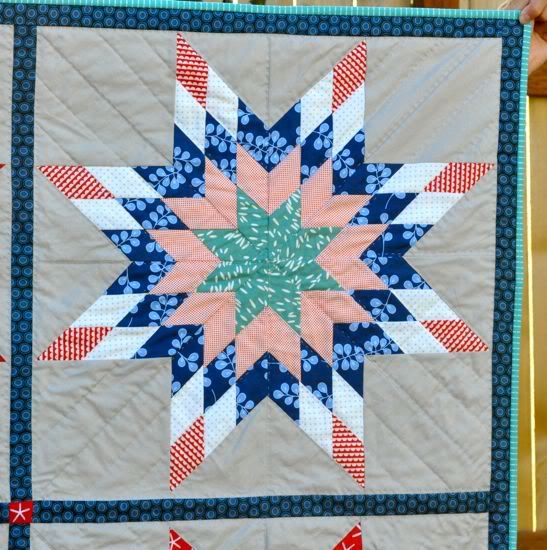 And yes, I decided to hand quilt it using a light gray thread. I really love hand quilting! I think I'll be doing it more often now. (this quilt was a lot of firsts for me!)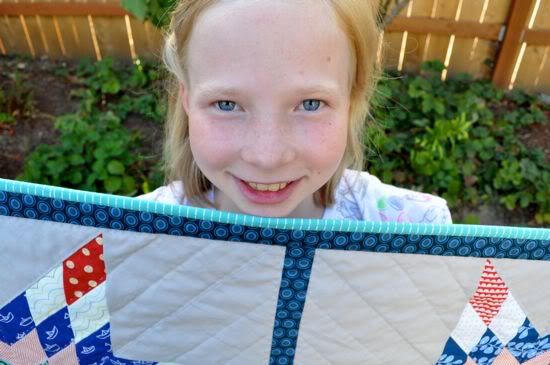 Thanks for modeling my quilt for me Jessie!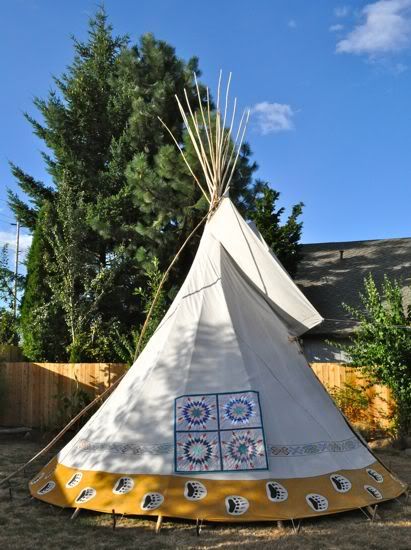 And a fun shot for you. We have a real full size teepee set up in our backyard for the summer, the kids love to play in it. Mark's mom made this (yes I said she MADE IT. Who makes a teepee?) back in the 70's and he inherited it! Isn't it so much fun?? It's huge! It also cracks me up that I have a teepee in my backyard. LOL! Have a great week everybody!!