I picked up a book that was written by my friend Heather over at
Alamode fabric!
It is called
Pillow Pop
, and has so many beautiful pillow patterns that her and her friends had collaborated on for swaps. I fell in love with this book, and am on a quest to make all of them. Pillows are great for trying new things, like paper piecing, or different color ways. Here are three that I have made so far.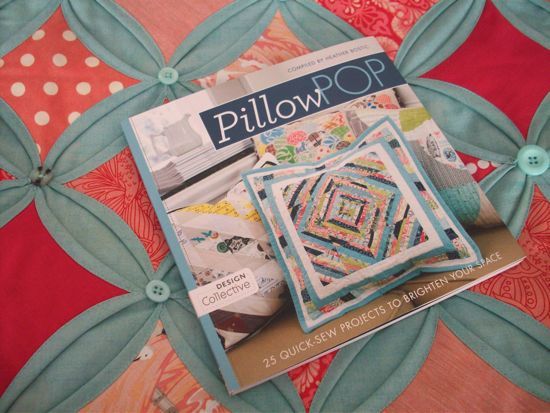 First up is a beachy, and happy pillow. In the book, Heather used aquas and the plus was an orange. I changed mine to yellow, and did some hand quilting on it to make it "pop" out.
It was fun choosing the aquas from my stash. I love aqua, as you all know, and this pillow has all of my favorite fabrics in it.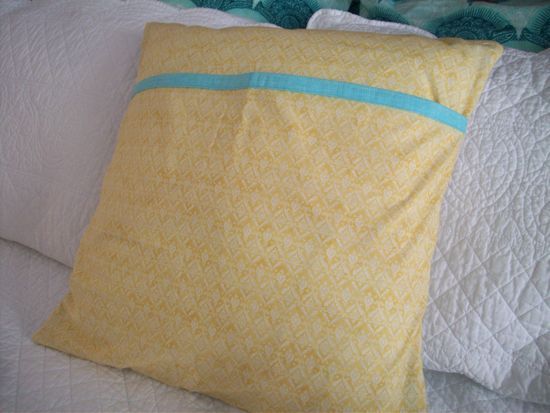 I used a simple closure on the back, with a pop of aqua.
Next up is my favorite layout for half square triangles. I love the barn raising layout so much! It has a lot of visual impact. I challenged myself to use purple. It's not ever my first choice for color, and this was a stretch for me, but I love how happy it is.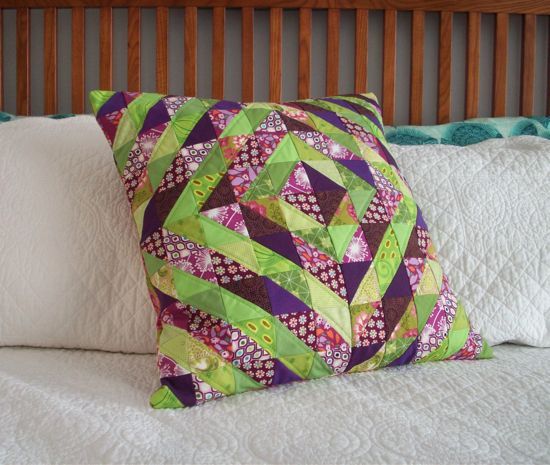 I did straight line quilting with a green thread only in the green diamonds, simple and effective.
The backing was a fabric I've had forever and ever. It was perfect for this pillow!
And finally my most favorite of them all so far. My friend Barbara made a cathedral windows table runner, and I have been loving the pattern ever since. When I saw this in the book, I was nervous to try it, but dove in feet first. There are many tutorials online for this, so I looked them over before I started. It is mostly just a lot of ironing! It was simple to do once I got the hang of it.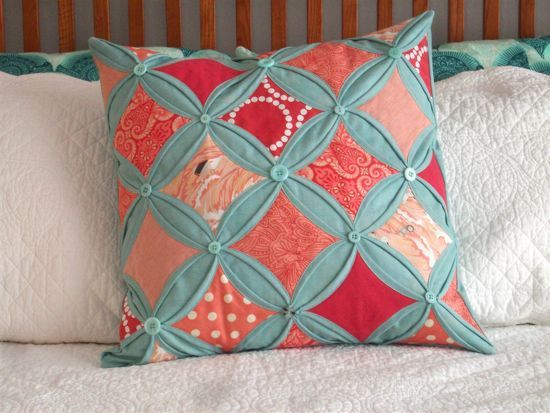 I've been seeing the color combination of aqua and coral in the stores for awhile now, and wanted to makes something with the colors, I love this pillow!
I used several fabrics from the Tula Pink Salt Water line, and some Kaffe Fasset shot cottons for the solids. And of course polkadots, you have to have those. The aqua I've had for awhile now, it's by Basic Gray for Moda, a grunge fabric.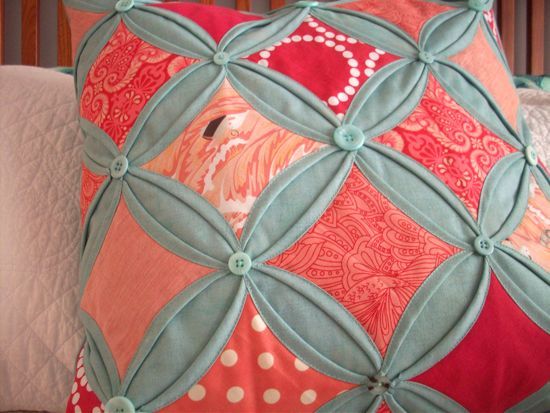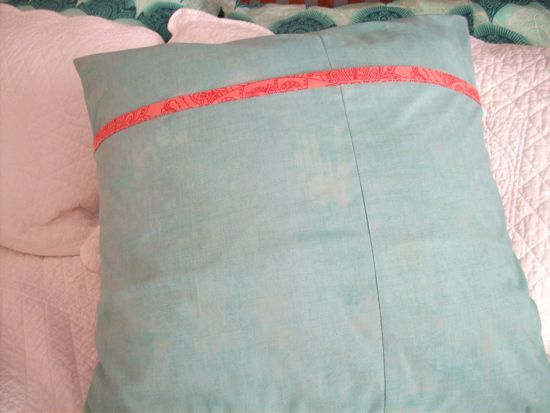 So, have I convinced you to go and make some new pillows yet??