I can't believe it is 2007, this is going to go by just as fast as 2006 isn't it? My 4 year old has informed me that she will be going to school this year and that she'll be 5. I can't handle that yet :( My babies are growing up!
Well, we had a great new years eve, with our neighbors over. It was a great way to bring in the New Year.
I found out my sewing machine is fixed! So, I can go and get it anytime. I only wish they didn't close at 6:00, that means I can't get it until Saturday. Maybe I can get some fabric cut out to have ready to sew. :)
I have started a new chart, it's JBW Designs : Country French Apple. I of course didn't use the recommended anything, and have chosen WDW thread: Liberty, with Jobelan 28 count African Daisy. I love it. It's for my MIL whose birthday is in February. It's been so fast to stitch! I want to get a few other designs like this to do in the future. I sure am loving the hand dyed threads, they are just beautiful. I figure I'll have it almost done tonight for sure. I like the sampler look of it, it's very cute.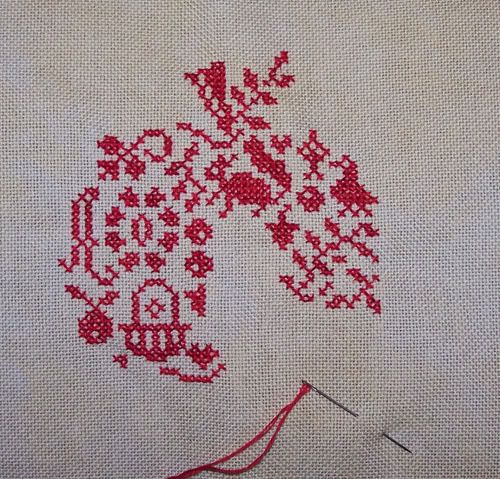 I was asked where I got the "Be Happy" freebie chart, I actually wrote a letter to Shepherd's Bush asking for it, and they sent me that and 3 others, they were so nice!
I've been requested to read Nemo, so off I go....