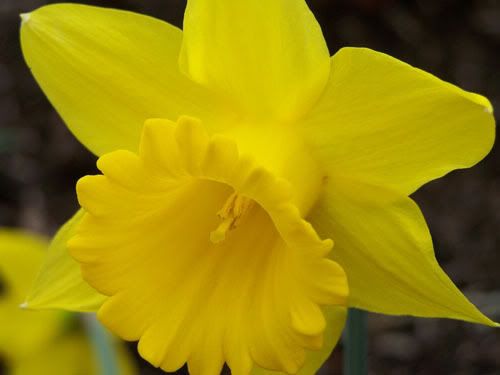 Hi there, I have not fallen off of the face of the earth, I promise :D Life got quite busy, and I have been lacking in the blogging department!

Last Thursday was another big church meeting/dinner/program I had to put on. About 50 people showed up, and it turned out so nice! I am relieved it's over, but had a wonderful time putting it together. Now, the next one isn't until July, so I can relax for a few months.

About 90% of the stitching I am doing is for exchanges/gifts etc. So I can't hardly show anything of what I am working on :( That is another reason for lack of blogging. But, I do have a few things I can show now.

I finished my first part of the Jayne's Attic RR. This is the Spring Snapperville. She has it divided up into 5 parts, I like her idea a lot. I stitched the Spring Cottage for this RR. She had all hand dyed threads for it, and it looks so nice. My stitching is not a good as hers is, I can't believe how perfect hers looks! :O I have a lot to learn still I see. But, I think it turned out nice. I really enjoyed stitching this one. I'll be mailing this off to Iceland this week.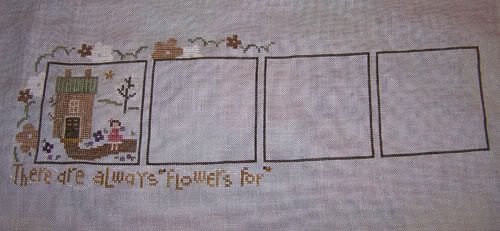 I worked on my Mermaids for a bit, and did some beading, so here's the progress on them. I am slogging through it, I won't give up! :D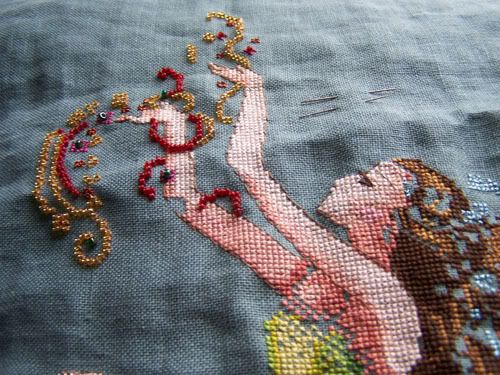 I have lots to do, I still have to stitch an ornament, and the March monthly snapper. I have started the Cannon Beach chart as well. Not much on it yet though. I had bought some blue/sky looking fabric from Carol a few months back that goes perfectly with it. I can't wait to get more done on it.
Spring has arrived! Here are some pictures of the kids and I last night :D