I have been out of touch the past few days, I need to play catch up on reading all of your blogs! My husband was out of town, and finally came home (for work), so I've been spending lots of time with him in the evenings, instead of ignoring cross stitching all night! LOL :D He calls it ignoring, if I do it too often.
I have a small finish, it seems that everybody is making these Little House Needlework charts. I just love them, and you get all of that great floss with them. So here is mine: Watermelon. I scanned it crooked, oh well :P You get the idea. I was thinking of making several of them and doing some sort of wall hanging with them, I think that'd be cute. We shall see what others they come out with this year.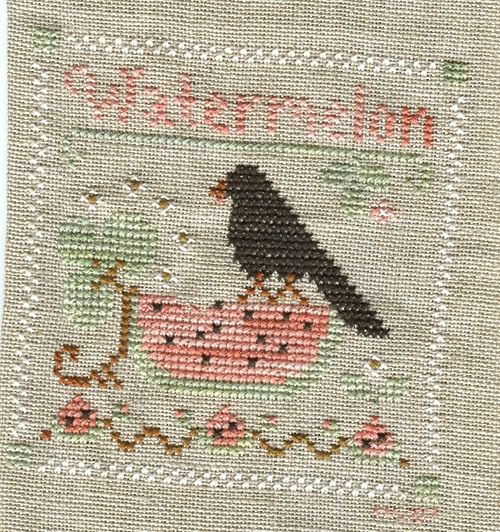 I still haven't received my RR from Jayne's attic. It got mailed a bit late I think, but I wish I had it, so I can start stitching on it, since it has to be mailed again on March 19th. Hopefully it'll be in my mailbox when I get home.
I've been reading quite a bit, last month I read How to Make an American Quilt, and then I read The Eye of the World by Robert Jordan (the 1st of a series called the Wheel of Time) I've read this huge series once, and I just LOVE it, so it was fun reading the beginning again. I have now picked up The Three Musketeers by Alexandre Dumas. It's a fantastic book so far. I plan on reading The Count of Monte Cristo after I am done with Musketeers. Can't wait!
The weather here has been so weird, it's cold, raining, snowing, sunny, windy… all in one day. I am glad I have a desk job, with a little heater at my feet. Makes life easier I think!