So, I've been busily stitching away at this. I kind of pulled from several charts and other NRR's I've seen. I like how it's turning out so far. I think I'll put a wagon with hay in it up by the barn, and a pond and weeping willow to the left of the house. I want to put a horse in it, but am not sure how to do it, since the area is so small... I'm trying to figure it out, any ideas?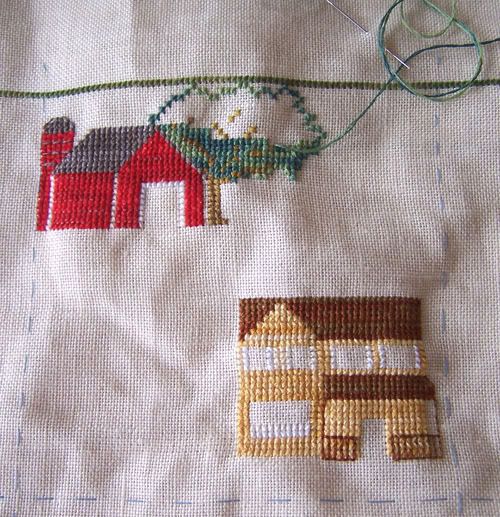 I'm working on my trip around the world quilt still. I've ironed all of the fabric onto the fusible gridding, so now I am just sewing away.
I've received most of the birthday blocks from the exchange I am in. I wanted maroon/green/cream star blocks. I love what I have gotten so far. I should still receive 4 or 5 more, then I'll make as many as I need to make a good size quilt. I wanted Christmas-y colors, so I could have a nice one laying out for Christmas time :D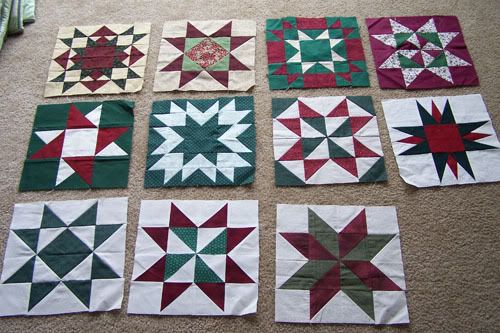 I've finished a big cross stitch project last night, WOO! It's a gift, so I cannot show it until the receipient recieves it. :) It looks so nice, and I am so glad to have it finished :D You know how frustrated I've been with beading the Mermaids. Well, I have been using a matching DMC color to the bead to do it. I bought some clear quilting thread and beaded with that on my newly finished project and it went SO much faster. I am thinking with my Mermaids I'll use this clear thread now, maybe I'll actually get it finished in the next three years LOL! Does anyone else use this clear thread? It was just nice to be able to do whatever color of bead at anytime.
Thank you everyone for visiting and leaving such nice comments. Jessie is feeling much better now. She had been throwing up and had a slight fever. So, she couldn't keep her medicine down to relieve the fever. Poor baby! She broke her fever that night and is now on the mend. I am so glad. Having a sick kid is never easy.