I love it when my friend's have babies, because I get to make them a quilt, and they are always so fun to make, with the cute fabric! My little daughter Jessie is sick today :( She has been throwing up quite a bit. I hope she'll feel better soon. So, I am home taking care of her. While she has been napping (a lot), I got two of my baby quilts completed.
This is for my friend Kristie, who is having a boy... and she loves frogs! I happened to have all of this fabric in my stash, so I had to oblige this frog loving :D I have yet to tie it, but that won't take long at all.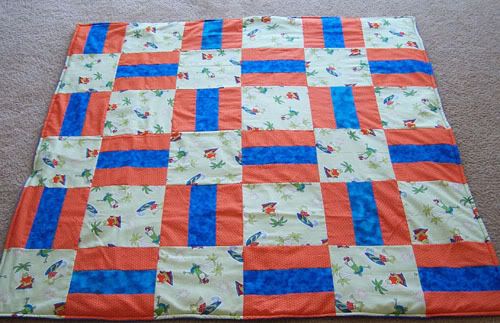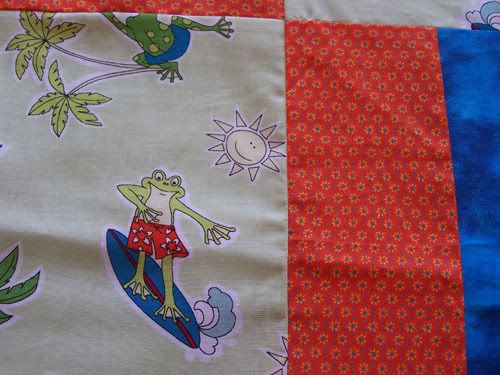 This is for my sweet cousin Kassidi's baby. When I went to Utah in November I got to spend time with her. We ended up in a bedding store that sold quilts, and she kept commenting on the cream/green combinations. I usually don't do subtle colors like this for a baby quilt. But you know, I really love it! I found some pretty coordinating paisley fabric and did an Irish Chain pattern. I've always wanted to do an Irish chain, so I am glad I got the opportunity to make this traditional quilt. I am mailing it to her tomorrow, her baby is a few months old now, so I am sure she'll get some use out of it. I put a soft flannel on the back.
This picture doesn't make it look too good :( I quilted it in the ditch down the squares so it should hold up nice with a lot of washing. I used high loft batting so it'll be nice and cozy :)
For Mother's Day I had the kids do some hand painting on fabric, they made flowers and butterflies out of their handprints. I then put them into a wall hanging. I made one for each of their grandma's! Isn't it fun?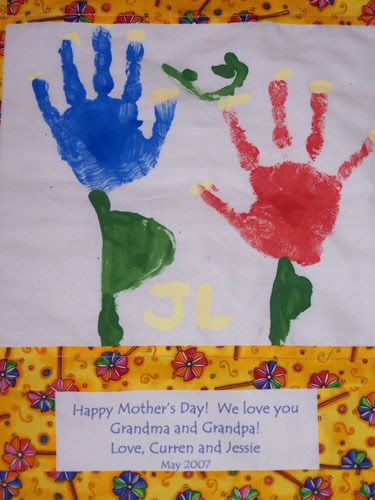 I am making good progress on my neighborhood RR now. It is fun! How is everyone else coming along????