I hope that everybody had a good weekend :) I thought mine was over way too fast. Mark was surfing with his friends, so that left me to go shopping! I went to the LNS and got some new charts…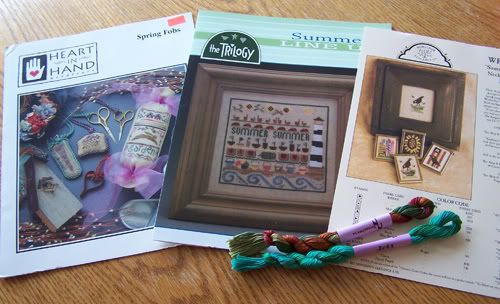 The Trilogy: Summer Lineup, Heart in Hand: Spring Fobs, HomeSpun Elegance: Wee Fancies I. And two Needle Necessities floss. I love Needle Necessities. They come at 20 yards a skein and are just beautiful colors, and the cost is only a dollar more than WDW or CC. I am trying to stock up on the NN now, they are my favorite. I always grab a few when I go to the LNS.
I really like a lot of the Homespun Elegance charts, I have put a bunch on my wishlist. I'll have to get some of them in the near future. They are really cute!
I have been working on my USEBB 4th of July exchange, I'm about ½ way done now. And my 4 Seasons I have put several hours into. It is weird working on a big project again! I guess it's hard to see a whole lot of progress on it compared to the small ones I've been doing lately. So I'll take a picture of it this week to show you.
Kendra, you are right! The Ever After cross stitch is where I figured out that I liked the clear thread for beading. It went relatively quick compared to the mermaids. I am going to do the clear thread on the mermaids whenever I pick them up again.