What a weekend! Thank you for all of your comments on Barbara's wall hanging. I loved making that, Shepherd's Bush has the cutest designs :) Let me know how you like that tutorial! I hope it is understandable.
I have not been able to mail off my Neighborhood Round Robin on the original date (last Friday), I didn't think that it'd take me so long to do! I think it's because of the big long borders on it that I got delayed. Von is who I mail it to, and she said to take until the 10th if I needed to! Wow, how nice! I should have it done well before then LOL! Here is my progress: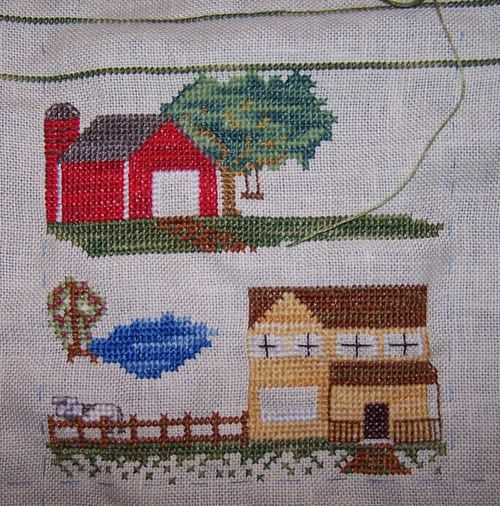 So, a question for you ladies. Since my theme is "farms & Americana" I wanted to put a quote or poem at the bottom of the border. Does anybody have a favorite quote that you think would sound good for this? I am going to be searching for one, thought I'd ask all of you ladies as well :) I have lots of space there, so it can be pretty long I think.
Another thing happened this weekend. I am on the Quilting Community on LiveJournal.com. And a girl there was giving away fabric to anyone who lived in Portland. Another acquaintance of mine on the site also from Portland commented and said that she'd take it and split it with me! Imagine my surprise! I was so overwhelmed with how kind she was to do that. Well, she came over Saturday with the fabric, and all that I can say is there was tons of it. Mostly Batiks (yay!!!!), and yards and yards of them all. I would say there was easily 40 yards altogether, maybe more. Here are the pictures of it all. There is enough of some of those colors to back quilts with. I am ecstatic!!! :D :D :D This is rare I am sure and I feel so lucky. We split everything, I can't say enough about how kind people are.