My Neighborhood RR is finally ready to march out the door to Von today! I know she's winging her way to Puerto Rico right now (I wish I was stuffed in her suitcase!), so it'll be ready for her when she comes home.
I haven't quite finished it, but I see that is the case with other RR's as well, so I don't feel too bad :D I wanted to stitch more grass and a few more little animals on it, but it'll have to wait for a year and a half. Stitching that big huge border took a lot more time than I expected. I am really looking forward to what everybody stitches on this.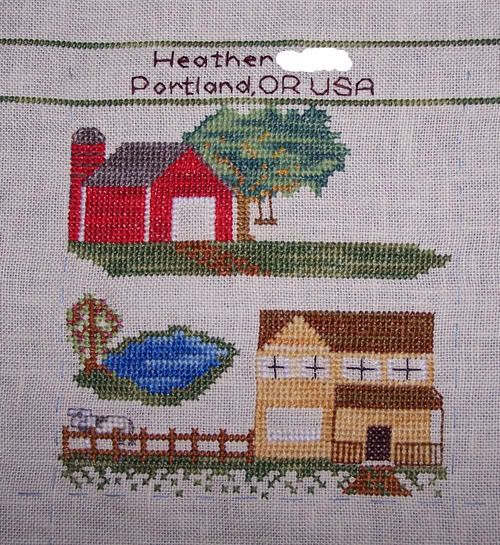 In other news, I finished my June Bent Creek Snapper! ½ way done! Woohoo! Even though I still will have to stitch the leaves around the border, but that won't be too bad.
Guess what I picked up for the first time in 11 months? The Four Seasons! I had a lot of fun working on it, and so I'll be focusing on that until I get sick of it again :D Pictures to come when I show a bit more progress.