You guys are SO awesome, thank you so much for your kind comments on the quilt! I could just hug you all. It's so nice to be able to hear feedback from you, because I know you truly appreciate these hobbies :D Thanks for taking the time to leave me such nice messages, I love you for that :)
Well, I heard from
Carolyn
that she received my 4th of July Exchange from the USEBB! She says she really loved it, I am so glad :D I had a great time making this for her. It was hard for me to pick what design to do, because there are so many cute ones out there!
I decided to make a flatfold. I have been wanting to do one for a long time, and finally had the perfect design for it! I stitched Bent Creek: Land of Liberty for her on 32 count Babbling Brook fabric.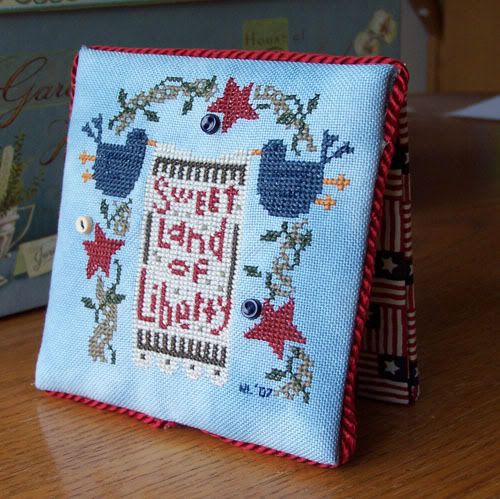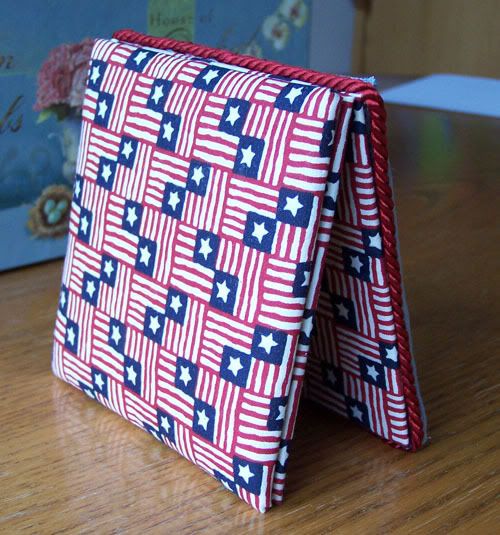 In the package I put a tin with some fat quarters and threads, and such for her, all red, white and blue of course!
So, since I am pretty much done with this big quilt for my cousin, I started working on my wave quilt again. I am almost done with all of the wave blocks, and will start on the sun block hopefully this week. I have enjoyed getting on the machine again, it seems like a long time since I've been on it. Probably only 3 weeks or something, but still, I am glad to be back on the horse! :D I'll take pics of the waves after I get them done for sure.