I worked on this for a few days and finished it today: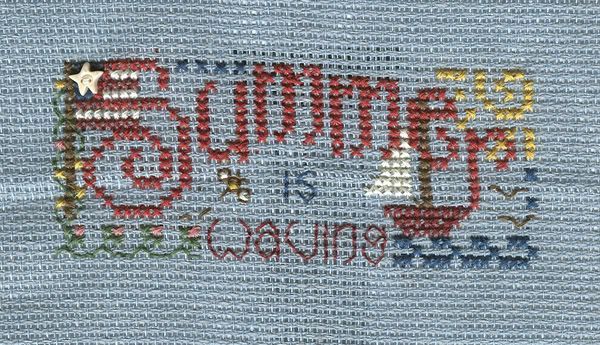 Shepherd's Bush: Summer is Waving kit
It is on 10 count fabric, so it is big! It called for 3 strands of floss, and had this honkin' embroidery needle in there. A bit of an overkill, but it worked :) I think it is cute. What do you think I should finish it into? I was thinking a flatfold, or a wall hanging. What would you do? Hmmm?
The weather here has been so weird. It is very humid, overcast, and rainy for the past week. I want the sun! This weather is for winter time! The humidity is what is so annoying :P I am whining… I shall stop to spare you all.
My next project to work on at work will be another Shepherd's Bush chart, my ornaments! I need to get cookin' on them if I want all of them done for Christmas :) I have all of these new SB kits just waiting to be stitched… so I better get going.