August Goals
Stitch the August Bent Creek Snapper *yes*
Stitch a Shepherd's Bush ornament for the SAL *almost finished one*
Put stitches in the Mermaids *no*
Put stitches in the Four Seasons *yes*
Get backing/batting prepared for wave quilt, and cousin's quilt, and mail to the quilter *yes* Work on Grandma's log cabin *yes*
Complete teal/brown Carpenter's Star *yes, 8-25-07*
Buy batting and thread to finish log cabin, and complete this quilt. *got backing and batting, didn't finish*
Pick out chart to stitch for NRR *yes & started it*
Make another Carpenter's Star, and finish. *no*
Work on my Block of the month quilt. *yes*
Make 2 birthday blocks *yes, made 3*
I can't believe I thought I'd finish 3 quilts this month HAHAHAHA! I must have a very high opinion of myself to think that :D
September Goals
Work on the Four Seasons
Finish 2 Shepherd's Bush Ornaments *yes*
Work on Grandma's Log Cabin
Stitch 2 Shepherd's Bush Ornaments
Finish Debby's NRR and mail it to Von at the end of the month. *yes*
Stitch September on the Bent Creek Snappers
I would like to make more goals, but I am not feeling ambitious at the moment LOL! :D
I've been having a great time with my family here. We went to the beach on Saturday, it was a lot of fun.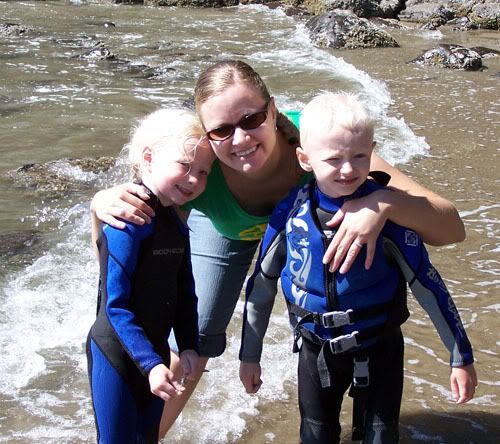 This is Tillamook Head Lighthouse, it is no longer in use, it looks kind of creepy huh? Anyway, it's pretty far out in the ocean, I really had to zoom in on it.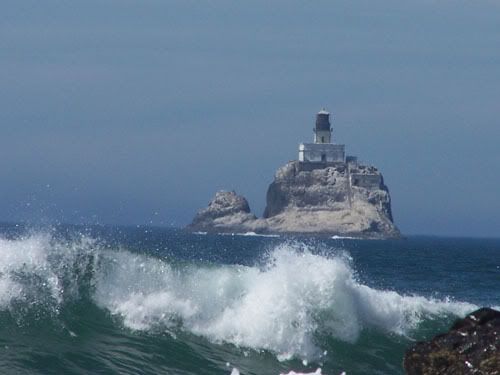 This is my little sister Nikki and I :D
I've been working on my grandma's log cabin quilt, and helping Nikki make a table runner. We have been enjoying our time together. Tomorrow we are making a trip to Fabric Depot, everything is 50% off! I need to get some fabric to finish my grandma's quilt top :) yay!