I hope you all had a nice weekend. It sure went by fast for me though :) What else is new though right? Weekends are never long enough. My husband was out of town to Connecticut for 3 days this week, luckily I had mom here to keep me company. I got quite a few things done this weekend, which was really great. I was happy that I did. I have felt like I've fallen behind since I was sick for a week this month. I gotta keep up my momentum!

This is Grandma W. with Jessie taken in 2005.
My Grandma W.'s quilt is completed as of last night! I am so proud of this quilt, because of who I am making it for. My Grandma is an amazing woman. She has worked hard her whole life. She has always sewn, and I grew up with her jumpers on, and her pillows and blankets. I was thinking of making quilts for my family and immediatley my Grandma W. came into my mind. I picked up the phone and called her sister, my Great Aunt Phyllis (who's next in line for a quilt) and started talking about Grandma. She said that she adores the teal color. I had already kitted up a Carpenter's Star quilt in the new Teal/Brown fabric lines you see out now. And knew that was to be for Grandma. I am so excited to be able to make her a nice quilt that I know she will appreciate and enjoy.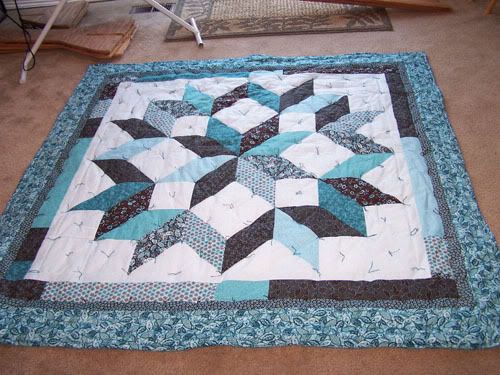 I used a nice flannel backing, and thick batting so it will keep her nice and warm.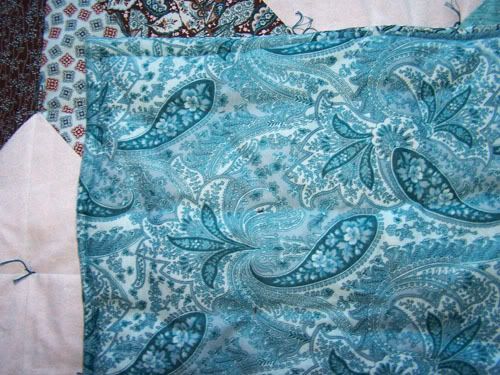 Since this is nice and puffy, I knew it couldn't be quilted. So I borrowed Colleen's quilting frame to tie it. I fussed with the frame for a good hour and couldn't get my quilt tight enough. My mom kept commenting that a dime should be bounced off of it, and I couldn't bounce a cat off of it, so whatever :P I called Colleen, and she took a break from cleaning her garage to come and help me set it up. Within 20 minutes it was "like a trampoline!" in Jessie's words.
I finished tying it on Saturday night, and it's ready to mail off to Grandma in good old Wyoming!
I got some secret stitching done, my USEBB Halloween Exchange is completed now :) It turned out very cute.
Also I finished my Bent Creek August Snapper today. I liked this one... well of course I did it's red/white/blue and has a lighthouse! So cute.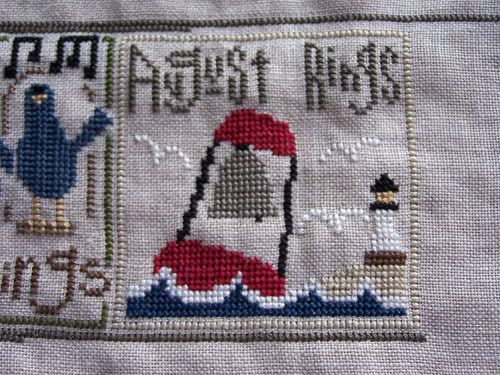 It's getting too long to photograph all at once :)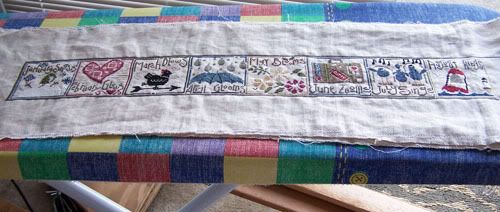 Next in the stitching front will be Debby's NRR I got her pattern picked out, and my Autumn USEBB Quaker Exchange. I have some good ideas for the latter, can't wait to do it.