I want to welcome one of my good friends
Colleen
to the blogging world! She is such a sweetheart. I hope that you can go over and meet her, you'll love her! She is a fellow quilter, and has taught me a lot. She has been teaching all of us at church every month how to make our blocks, and special tips and tricks she's learned. I owe a lot to her for helping me along.
I had one last stash binge late last week, I did some chart trading with someone I met online, and so, I am looking forward to a package in the mail from her early next week. I cannot wait to get them. A lot of patriotic charts that I've been eyeing for awhile are in there. It worked out she wanted some of the charts I had already, so I didn't have to pay much for the large bunch of them she sent me. Also
Cindy
, I received your charts in the mail yesterday, thank you for trading with me, I am loving the charts you sent :) And thanks for the bonus freebies, awesome!
Thank you everyone for your encouragement on my declaration of cutting back and being more reasonable. There has to be some point to where you have to stop and come to grips that you can't buy everything. :) I like the idea of maybe getting a reward when I have 5 or 10 done, then maybe it won't feel like it is so long. What about spending the money to get some of my big ones framed nicely when I finish them? I might do that. It'd be worth it for sure. Especially the Four Seasons. I know I can do this, and you helping me along is so wonderful.
Can you all see my new counter on the right side of my blog? You should all be able to see it now. I think it is really cool. I had to pay for it of course, but I like it! I can change it to show cities, states, towns… it can get really detailed. I like the countries though. I might change it from time to time just for fun.
Also, I changed my settings so that anybody can leave a comment here, not just blogger users. So if you are visiting without a blogger account, feel free to drop a line! I'd love to meet you :)
I'll leave you with a picture of Curren, who was posing like a model for me at the beach on Saturday!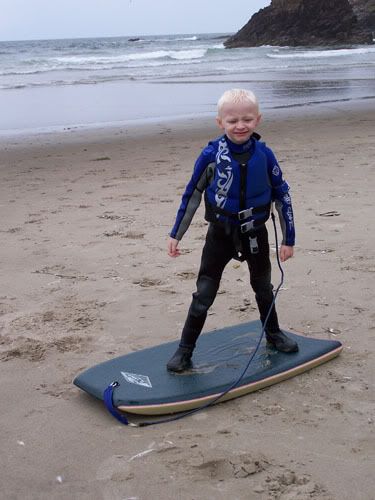 And here is Jessie getting cheesy for us all too :)