Thank you so much for your kind comments on my blocks! It helps to hear those :D I have been feeling much better this weekend, finally. I have just been a bit off all of last week, it was really weird. I was not in the mood to do anything, not even stitch! That is so not good for me. Now I feel like I have a lot of catching up to do :)
My mom comes to visit on Tuesday, she'll be here for 3 weeks. I have been doing a lot of de-cluttering around here, loads of stuff in the trash, and to the Goodwill :) It feels good! I borrowed our cousin's carpet cleaner, so hopefully we can do that soon too. Yay, a clean house!
I have been working on Little House Needleworks: Stars & Stripes since the beginning of the month at work. I finally just finished it yesterday when we were coming home from the beach. I think it'll be finished as a wall hanging or a cube-it. Not sure which one yet.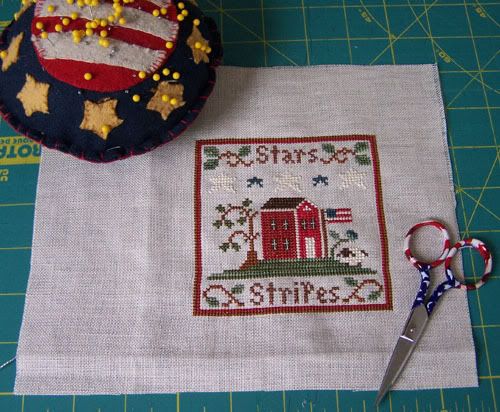 I got a beautiful gift in the mail from
Dawn
on Friday! I love it! It is so perfect. It matches my new blue living room perfectly. So it will be displayed for all to enjoy :) Also, she was so kind and sent me a pattern and some beads. Thank you again Dawn!
Now I will work on my two exchanges coming up. I signed up for a Halloween and an Autumn Quaker exchange. I kitted them both up so I can start working on them whenever I am in the mood :D I'll also start working on the Neighborhood RR, I have Debby's! I have the chart all picked out. It should look nice :) Have a nice Sunday and I'll talk to you all soon!