Thanks for your comments on Debby's NRR :D I am so glad you all like it! It can be a bit daunting when you have to make up a house and all that, you want the owner of the piece to love it you know? So, I mailed it off to Von and next will be Rob's NRR, hers is a seaside theme yay!!! I almost went with a seaside theme on mine too, so I am pretty excited to do hers.
I don't have any crafty pictures to share today, I've been working a bit on several things so nothing to show LOL! I still have stitching ADD LOL!
Over the weekend we went on a hike in the Columbia River Gorge, which is just east of Portland. It is a beautiful place, a big canyon that the huge Columbia River winds down. Well, there are waterfalls, canyons, rivers, and tons of hiking trails all through it. We decided to do an easy hike to Punchbowl Falls. We went to the Eagle Creek Trailhead and started out. It follows Eagle Creek through a really pretty canyon. We got up pretty high at one point, and then came back down to meet the creek. It was a two mile hike into the waterfall. We were lucky and had the place to ourselves for about an hour. The water was really cold and clear. When you come upon the waterfall you see:
Lower Punchbowl Falls
Then you wander just a bit up the riverbed to see:
Punchbowl Falls (this I've seen in a lot of calendars, the big log across it must have fallen recently? It wasn't in any photos I've seen of this waterfall before)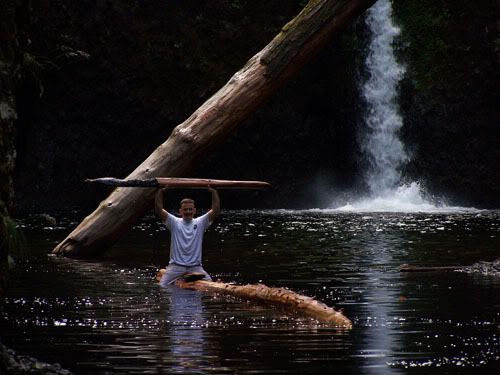 Mark and the kids took off their shoes and socks to go wading, and then they all fell in :D I knew I would have done that too, so I stayed out and took pictures instead. Next time maybe I'll bring a wetsuit so I can swim around.