My husband was out of town all of last week and through the weekend. He was gone so much this month, it was crazy. It is good to have him home, and to know he won't be traveling this month now. We can actually relax and focus on the holidays!
So, when Mark goes out of town I usually stay up really late every night sewing/stitching and watching girlie movies that I know he has no interest in. I love my Netflix account :) I had Colleen come over on Friday night to sew, and she stayed until midnight! We had a lot of fun. She finished up a quilt for a hospice, and worked on her Christmas tablerunner (same pattern as mine). I worked on putting the border on my Pumpkin quilt: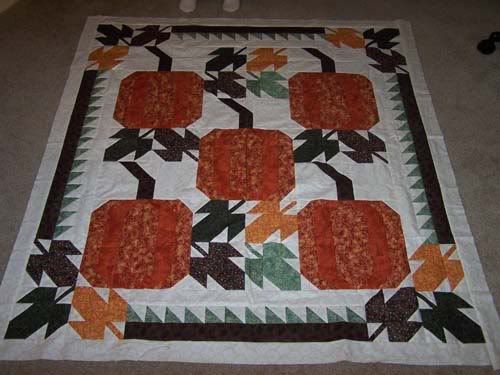 I woke up Saturday morning to horrid weather and continued sewing, this time on my Christmas tablerunner. I got it quilted and the binding sewed on. I then started the Christmas quilt using the Moda Holly Jolly fabrics, I bought the pack of pre-cut 5" squares that has a big selection of the fabric line in it. That night my friend Kelly came over and we went to a quilt shop and found some ideas for a quilt she is making, and I got the last border for my pumpkin quilt. When we got back to my house we sewed more! I continued on my Christmas quilt and she worked on her new project. When she used my machine I finished hand sewing the binding on my tablerunner.
Here is my finished Christmas tablerunner, I love how it turned out!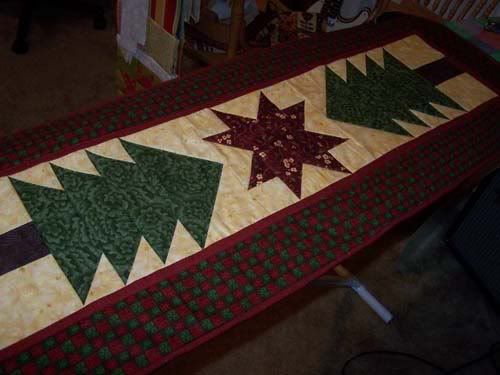 And this is the final border I got for the pumpkin quilt.
I got this template because I've been looking for them forever and I think they are awesome!

More photos later, this time of stitching LOL!