I love Christmas time, and why? All of the fun ornaments of course :D I participated in the USEBB Christmas ornament exchange, I was lucky and got Carol's name! I fretted and worried over what to make her, she has done so many things, and I didn't want to make a replica of something she's already made. So, when I saw the Christmas Chick, I knew it was perfect. My finishing isn't fabulous, I really need to learn to make my own cording, and Marie has shown me the way, just haven't collected the tools to do it yet :) So here is Carol's ornament: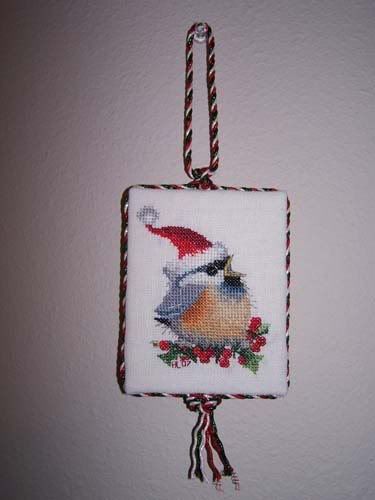 Also, I received a great package from Cathy yesterday in my mailbox! I was super excited because I know how great her packages are. I was a lucky recipient of a hardanger piece earlier this year from her, now I have two. She made me the cutest little hardanger angel. I don't think I'll ever venture into hardanger, but wow I sure love having it LOL! Thanks Cathy.
Also she included a large piece of fabric, which I will most certainly use up, candy, and two charts. One from my wishlist and the other I love too. You were so thoughtful and that means a lot, thank you!!!!
I also made an ornament for my sister Nikki, she loves snowmen, so I saw this little chart and had to stitch it for her. It's a Becky Boos chart called Let it Snow. I had fun making it! I haven't heard if she got it yet, I am sure she has by now though.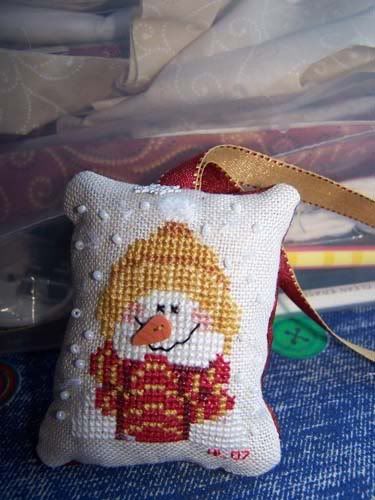 I received a PIF from Carol last week. She made me a fob with my initial, and it's so cute. It's from a Prairie Schooler chart called Garden Alphabet. It is now residing on my scissors, I love it! Thanks :D
I am working away on my NRR at the moment and whatever else I decide needs my attention, I can't focus on anything for too long at once :P I feel so scattered!