Did everyone have a nice Christmas? I hope you all did! We had Saturday through Tuesday off which was really nice. We didn't do a whole lot, and so we stayed home most of the time. I was glad for the break of not having to go to work and just be home for awhile. The kids had so much fun this Christmas, being 5 and 6 years old, they really are figuring out all about Santa and it's very cute. I was grateful to have such a nice time!
Mark spoiled me and I was so surprised with the gifts he got for me, it was great. He got me a new coat and a cell phone, as well as a stereo for my IPOD. It made my day LOL! We've been wanting to get me a cell phone for a long time, but I didn't really know what I wanted, so I was happy he just went an picked one for me :D He says it's to track me down when I'm out shopping… I don't know what he's talking about (I tend to be gone much longer than what I say) I told him that he'd find it ringing on top of the dresser! LOL!
I got a lot of stitching done in the days I had off, and it was wonderful. I've been so rushed about by everything… I really needed to have some down time with my favorite hobby :D I finished November and December on my Bent Creek Snappers.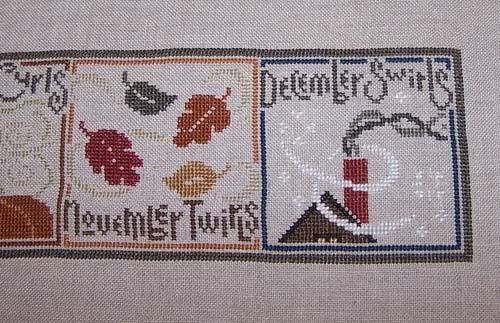 I need to add the leaf border and the buttons to it now, and then this big thing will be done! It is really long too, I will eventually get this framed and hang it above a doorway. It'll be cute :D
Since I did one of these every month this year, I was thinking I needed to do something like it again in 2008. These were small and manageable, with little color changing. I think I'll make Christmas ornaments one or two a month, and they'll be for other people, why not get a head start on them? I wish I'd have done it this year because when Christmas hit, I was wanting to make things for everybody. Wish me luck :D