Last week was fairly uneventful, I have determined when you buy a puppy, also go to the store and buy a carpet cleaner! Potty training has been fairly successful so far, but honestly... how can you get mad at a face like hers??? She is under the desk right now as I type this looking cute :)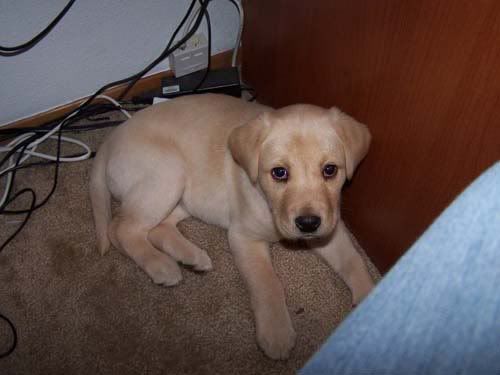 I was able to finish Vonna's NRR this past week, I was pleased with it. Not much changed from the last photo, but here you go anyway. The house is from a Drawn Thread chart, and the rest from a LHN chart. Can't wait to see who's next :)
I was able to get my Grandma's Log Cabin top finished today, I also pieced the backing, so now it's ready to go to the quilters. I was relieved to have the top done, I've been working on it for awhile now.
The shop hop ended yesterday. I had one more shop to go to, and we drove out to it. I turned in all of my cards and my stamped paper verifying I'd visited the shops, so let's hope I win something :) It was really fun to do that, I obtained so many goodies :) Here is most of what I got! I can't wait to use it up :)
I started reading the book Twilight by Stephanie Meyers last night, and forced my self at 2:30 am to put it down, it was sooooo good. I woke up this morning and finished it. What a wonderful book, very romantic and intersting. I couldn't stop reading it, and thought about it all day today. I can't wait to get the other two books in the trilogy next week!! I love it when I find an excellent book. Tonight I am starting another new quilt. I am making two blocks first to determine if I like how it looks, then I'll go forward and start cutting it all out :) Also, I am working on The Cape cross stitch :) Busy busy! I hope you all have a great week ahead!