First off, progress on Vonna's NRR is speeding right along! A few more flowers here and there and I'll be done! I love it :D
We had an exciting weekend, I say this mostly because I had an exciting weekend :) The weather was cold and raining, and Mark wanted to go surfing. I kind of hemmed and hawed a little saying it'd be yucky outside and we would just have to sit in the car for hours while he surfed (I'm a whiner sometimes). See, I found something I really wanted to do this weekend. I stopped at a quilt shop Friday on my way home from work to get some fabric, and the owner tells me about a shop hop, with 11 stores. And then tells me about the cool prizes you can win if you visit all of these stores. So… I hinted to Mark about this on Friday night, saying I'd like to go if we can possibly… and anyway, he ended up driving me around all day Saturday to these quilt shops, I was in SHOCK I tell you. He wasn't having the time of his life, BUT he was very gracious to me :) I bought something at every store LOL! It was great to visit the shops and see where they were. Some I don't think I'd go back to, but others I will for sure in the future. I will take pictures later of what I got.
And then… at the last quilt shop we stopped at I spied a Pet Store. I asked Mark if he'd like to take the kids in there while I go to the quilt shop and he was more than happy to do that. Well, we walked out of the pet store with her…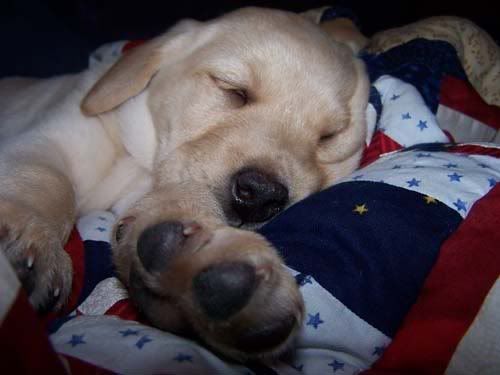 Look at that face how could you not want to take her home?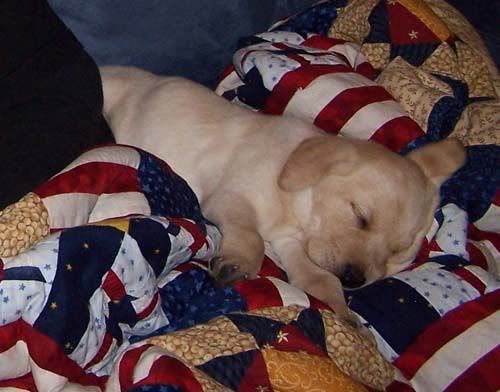 We named her Sunny, and she's a yellow lab, a month and a half old.
What have we done???? LOL!