So, I've slowed down quite a bit in my stitching lately. With being sick, the nice weather, and the good books I've been reading, I've been doing a lot of other things :) We have had the most beautiful weather, and it makes me so happy! The winters in Portland are dreary, drab and dark. It has been sunny, warm and inviting for the past week, and it's just great. I recently finished The Thirteenth Tale by Diane Setterfield. I recommend it, it was a really well written book.
I do have another WIP picture on Old McMary's. It's great doing a SAL on this, because it makes me get it out to work on it :D I stitched more red, incase you couldn't tell. It's kind of nice to do this red, you don't need to look at a chart, you just fill it all in. :) I may have to get another skein of that red though. All of the red you see it one skein, and I have one more. So… there is still quite a bit of red there to do.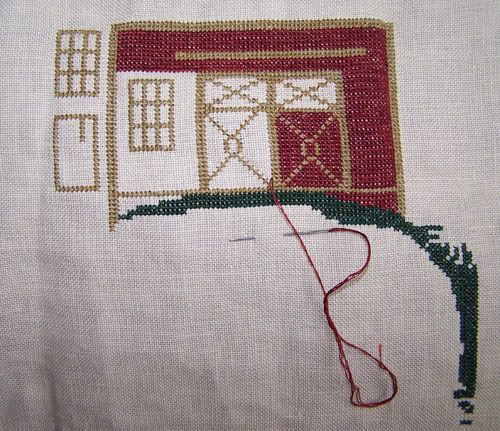 I have a small finish too! I did a Barbara Ana pattern called Winter Biscornu. It is soooo cute. I am happy with it! I will have this chart up for trade if anybody would like to swap charts with me. Just let me know.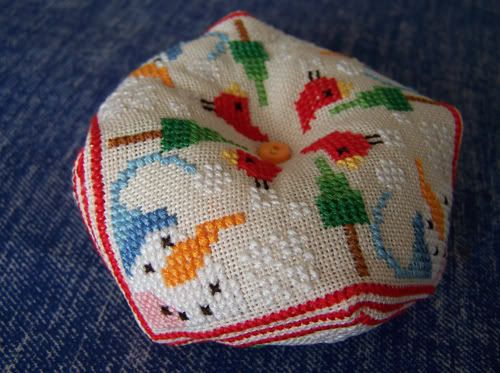 I stopped at my LNS (local needlework shop) Acorns and Threads last week. I had a great visit with the ladies who work there. I wish I could work there LOL! Even though they told me it is "bad" because you buy too much. I could see that ;)
I received Margaret's NRR in the mail from Rowyn. It is so beautiful with the Victorian houses. I found a nice pattern for it, and will start on it soon.
So much to do! If only I can keep up! :D