I finished up
Dani's
neighborhood round robin last night. Well, my part anyway. I love her NRR, isn't it so cool? She put a lot of thought into it, and the layout of it is very nice. It will be fantastic when it's complete. It was a pleasure stitching on this NRR Dani :)
I stitched Dragon Dreams, Summer Castle. I hope to stitch more castles someday, I had fun with this one.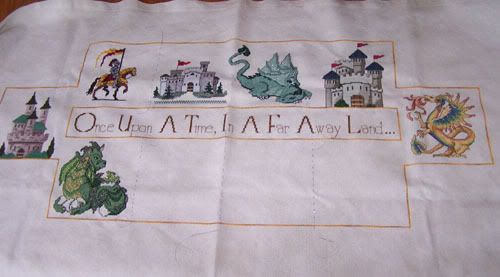 I've been feeling the itch to finish some things. I found several finishes hiding in a drawer, neglected. So, maybe I can get a move on and finish them into pinkeeps, flatfolds and whatnot for gifties? I want to have them ready by Christmas time for friends and family. Here is what I pulled together :)
KarenV
has been inspiring me lately to get things finished! I dug through my WIP box and found several smaller WIP that were about 1/2 way done, maybe I can get them going again!