Lots of pictures and rambling… don't say I didn't warn you. :D
Thank you for taking the time to stop by and leave such nice comments on the Star Lights quilt, you are great! It makes me want to keep on sewing and trying things :) Motivation is always needed. Where I am now on this quilt, is where I am on several quilts. The top is done, and…. Now what?? I need to piece the backing, sandwich, and tie the following:

Star Lights, Blue/Yellow Log Cabin, Block of the Month, and Holly Jolly Christmas.

I have the yarn, batting and backing for all of these! How bad am I??? I think I'll try and do the Log Cabin first, since it's been waiting the longest, and it's my favorite of them all :) Since I have a quilt frame now, I should have no excuses left. Wish me luck. Finishing a quilt is my least favorite thing to do for some reason.

Since I don't dwell on finishing quilts, I like to start new ones :D I started a mini-quilt, tabletopper size. It's 33x33. It is from a pattern called Short Story by Schnibbles. When I went to the Holly Hill quilt shop a few weekends ago, they had this for a display, so I pretty much copied their display I loved it so much. It was adorable. I got all of my things out that afternoon and started cutting it out. As I was reading the instructions, it said "not for beginners" and it made me stop. I still consider myself a beginner in quilting, because there is just so much to know about it! However, I read through the instructions and I could understand everything they were saying, so does this mean I am not a beginner?? Really?? I hope so! All of this hard work has got to pay off at some point. I did decide in my goals for the year to try harder patterns, so here goes :D This pattern calls for 59 of these little 4" squares, and you use the 5" charm packs to make them, how cute huh? I've made maybe 9… and it took me quite awhile. So I've got my work cut out for me.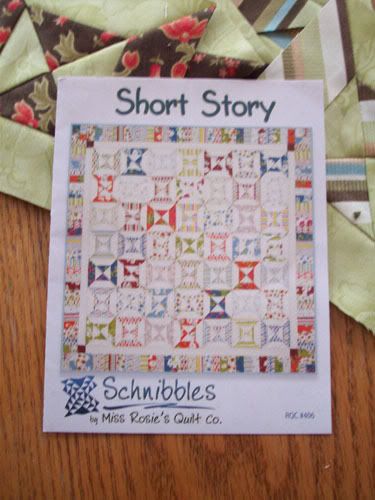 I am making another baby quilt like the one I did over the weekend, but using these fabrics instead:
The one on the far right is the main fabric, it'll be used for the big strips too. Can't wait to start it.
And I've started Sunflower House by Blackbird Designs. Here is where I am now. The colors are really washed out… the fabric is a light blue color. Darn camera, I wanted to show that :( Maybe my next go round will be better. I love this pattern.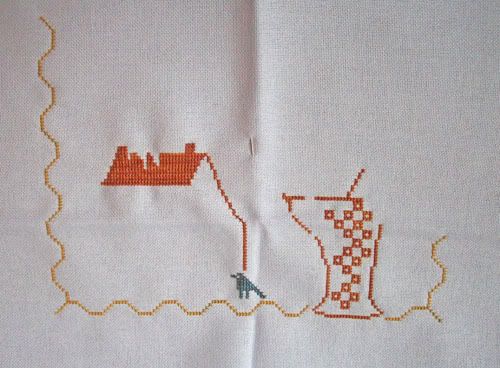 Let me see, I took a picture of my stitching chair for fun too. I sit in the small couch, and basically take up the whole thing year round. My stuff always migrates to the other seat, so really it's like a chair :) I only clean it off when we have dinner guests or something like that :P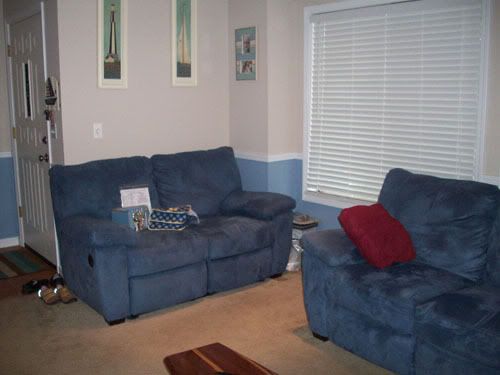 For Mother's Day I made homemade pizza, oh my gosh, it was good *drools* Found the dough recipe on the internet, I'll have to find that so you can all go and make pizza too, Jessie had fun helping me make it, she kept eating the toppings.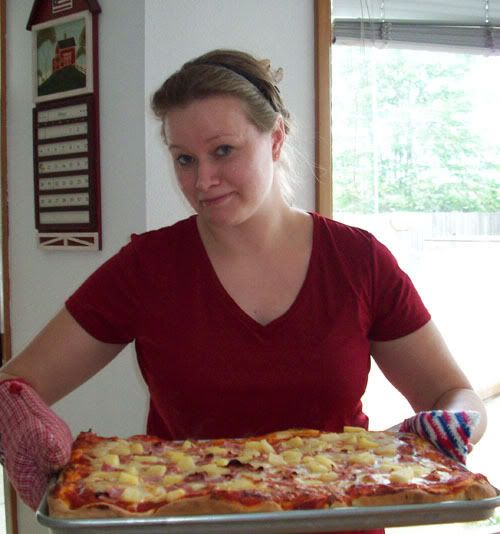 And here's a picture of the sunset a few nights ago, it was a beautiful evening!