After our hike this weekend, I didn't manage to get too much done. But when Monday rolled around I was able to finish the top of my other Carpenter star quilt I am working on. This is all cowboy fabric, I like the background fabric I found, it looks like dirt! It's so cute. I also got the backing pieced, I need to get some batting for this.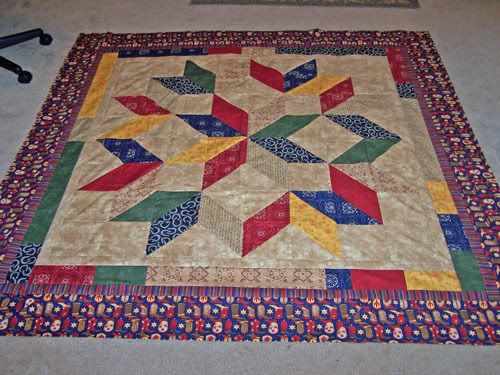 Here's a closeup.
My friend Jackie came over on Tuesday night to sew, and after we figured out her mysterious machine problem (the bobbin was in backwards) we got a lot of work done! LOL! She's making a Carpenter star quilt as well. While she did that I worked some more on my Short Story mini quilt. I got more pieced! Here's the stack… now on to the next step for this quilt, cutting them all into triangles.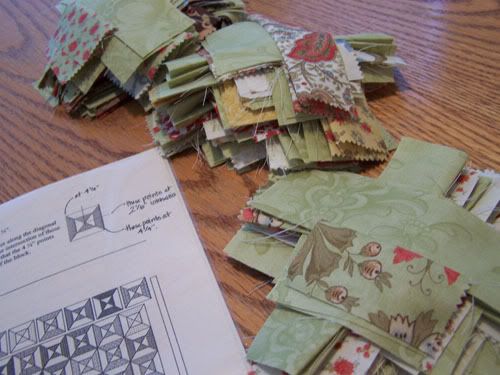 Since school lets out next week (holy cow) I decided last minute to make Curren's teacher a little ornament. This is Lizzie Kate's September block, I got the chalkboard stitched last night :) Don't ask why I do this to myself. I had every intention of stitching this months ago. Yep, that's me, Miss Procrastination.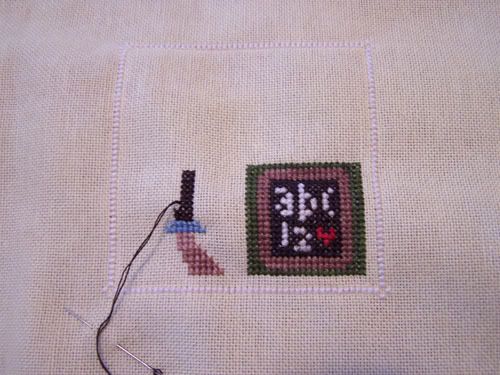 And here's my slow progress on Sunflower House. I love this one, the yellows are so fun.
I finally found what I want to stitch for my F&S exchange due in a few weeks. I need to get started on that one next. Lots to do! :D
Here's a picture of Jessie and I from a week or so ago, I got a new haircut! And yes, I look tired, because I had just woke up, and didn't want to go to work WAH! :D I am not sure what we are doing this weekend, but it's supposed to be chilly and rain again. So, we may just hang around here. Hiking in the rain isn't very fun, so I'll have to figure out something else to do.