We are back from vacation, we took a trip to West Virginia and Colorado, and are now back home, talk about cross country :) On our trip I finished Blackbird Design: Sunflower House. I love it!!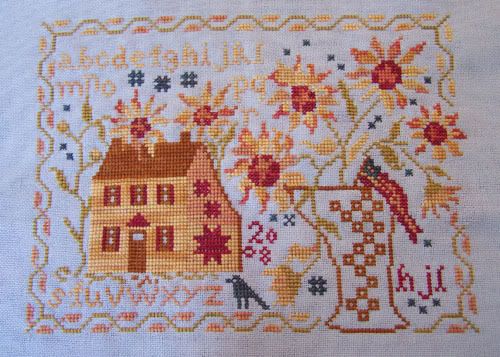 and a close up...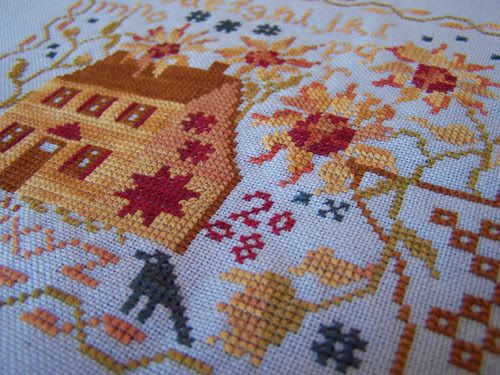 I changed out several colors to use what I had in my stash... I didn't realize I had so much threads LOL! So I had to use them up. The yellow of the house was threads that
Leena
sent me from a birthday exchange last year, it looked so pretty :) Thanks Leena!
Also, I finished
Cindy's
NRR before I left, just didn't get photos of it up, so here it is. It's a freebie chart by Barbara Ana. It turned out nice and I think matches well with her neighborhood. Only one house left! I'll be mailing this to
Von
in a few weeks.
And I have a progress picture of Old McMary's. I haven't put up a picture since the end of April. I finally got that big barn and roof all filled in, it is huge I tell you. I am glad that part is done, the rest should go fairly quickly, if I can find the time to work on it :D
I have started a Christmas gift for my sister, and will have to start the SBEBB Fall House Exchange too, I can't wait to get that one started. While I was in Colorado, I was lucky to be able to meet up with
Katrina
, who is absolutely AWESOME. She picked me up and we drove to FanciMats in Littleton, CO, and then went to lunch at the Cheesecake Factory, and then to a quilt shop in Colorado Springs. We had a great time together! Thanks again for everything Katrina. She was so sweet and made me this beautiful fob, complete with matching scissors. What more could a girl want??
I am glad to be home after 12 days away, that was sure a long trip. Now I have to get my act together and start getting school supplies and whatnot. It just never ends *sigh*