Jessie decorated my backpack when we went hiking, she's pretty good! :)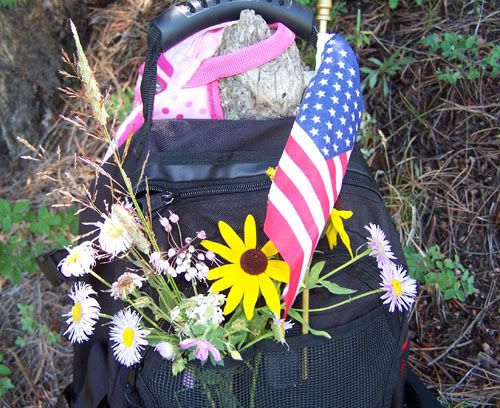 Jennifer
gave me this very cool award.
The rules of the award are:
1. The winner can put the logo on her blog.
2. Link the person you received your award from.
3. Nominate at least 7 other blogs.
4. Put links of those blogs on yours.
5. Leave a message on the blogs of those you've nominated.
Jennifer is so sweet, thanks for nominating me :D I have not been very good and posting regularly this month, I promise to get better for all of you soon. I have several blogs I'd like to share, there are a few more than 7! Many are well known in this community, but they really have been big inspiration to me, not only the crafting part, but the friendship part, so thank you for taking time out of your lives to share with me.
Marie of
Creative Thread
: Marie was the second person I did an exchange with through blogland, and we've done several since then. She is the best finisher in the world (in my opinion) and is very sweet.
Staci of
Snippets and Stash
: Staci is always busy making new, pretty things, and I love her old linens and pillowcases she is showing us, they are so pretty. It makes me want to overhaul my bedroom!
Karen of
Simply Stitching
: Karen is being awesome and stitching her WIP basket down to zero, and using her stash. I want to do this, and I am having no self control. I hope I can be like Karen someday, LOL! She also stitches things that I love, and so I find lots of inspiration here.
Debby of
Stitchwizard
: Debby is always stitching everything I want to do someday, and she is quick too! I've been enjoying her progress on Shores of Hawk Run Hollow, it's all her fault that I am going to start this one soon. Plus she's working on my NRR right now, and doing a fabulous job.
Anne Ida of
Quiltoholic
: Anne Ida makes the most beautiful quilts, and you see, she makes quilts with the colors I love, and so everything I see of hers I automatically want to make, but she makes these big complicated quilts that I may, someday… try to do.
Carolyn of
Just one more Stitch
: Carolyn has a great blog, she writes long entries, which I love :D Content is always nice, and has great photographs there too.
Vonna of The
Twisted Stitcher
: Vonna is so fun! She is a great friend, and I bug her quite often for various reasons. I am so glad I've been able to get to know her, (as I know many of you have). She is very good at finishing things, and always has a new way of doing it. Her kids are super cute too :D
Katrina of The
Needle's Promise
: Katrina was so fun to go out shopping with, she can be my shopping buddy anytime! Her stitching is beautiful, and she's a sweetheart.
If you haven't visited these blogs, I recommend them when you've got time to add more to your reader :D I'd nominate more, but I have too many more to list :D
I've been stitching like CRAZY, but can't show one single thing :( I have 4 things I am stitching for exchanges right now, and have 2 of them done now, and two more started. I hope I can get them done in time. I gave my friend Andrea her baby quilt, and she asked if she could hang it on the wall because it matched the baby's room so well LOL! So, sorry no crafty photos at the moment, and I'll try to work on something that I can actually share with you all :D
I am loving the Olympics! I hope you get a chance to watch them. Jessie says she wants to be an Olympic diver because she's good at The Cannonball! :D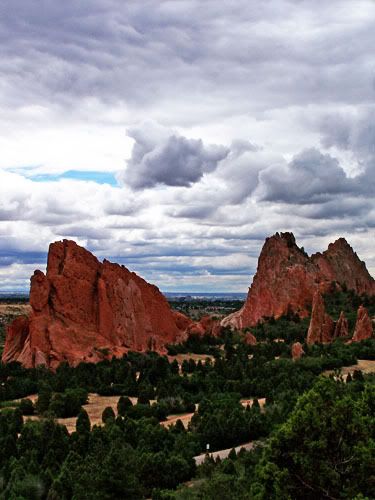 The Garden of the Gods, Colorado Springs, CO (from our vacation, on a hike we did)
Have a great weekend everyone!