I have heard from Miss
Leena
that she received the fall exchange I sent, and liked it yay!!! We are doing a personal exchange this year, and I was so excited to make something for her. She had my name last year for the birthday/Christmas exchange board, and I have been wanting to make her something in return ever since.
When I did the Shepherd's Bush exchange, Joan had my name, and made the cutest project bag, I decided I had to try to make one too :) So, that is what I made Leena. I stitched a design from My Aunt's Attic, and incorporated it into the bag, so it can be useful for Leena to use.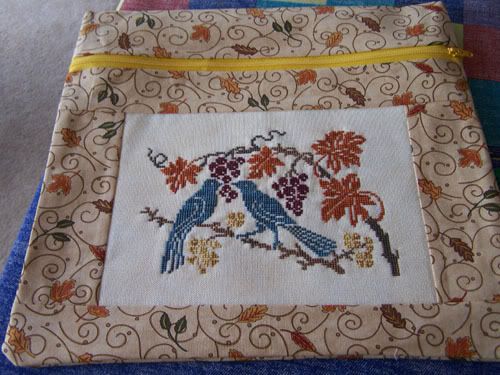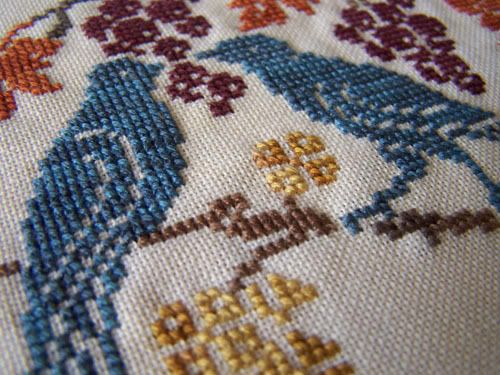 It's pretty big, and can fit a chart in there without bending it etc. I can't wait to make more, it was fun to put together. Sorry Leena, I don't have great photos of it either :)
I am stitching away on Von's NRR, working on two Christmas exchanges, a few quilts, and finished the stitching on a Thanksgiving exchange, just have to make it into something now. I am busy busy busy. How about you? What projects are you working on?
I have signed off the SBEBB board, and after the NRR is complete I'll have a lot more free time to do the long list of projects I've been holding off on for a long time. I can't wait! I think in January I'll start Shores of Hawk Run Hollow. I've been wanting to start this one for a long time now.
Tomorrow is my 2 year "blogaversary" How would you spell that? :D It's been so fun having a crafty blog, it's been a good journal for me to track my progress on projects, it's fun, and keeps me organized. Thank you all for taking time to visit me here, and to do exchanges with me, I've really enjoyed it!