I received a beautiful exchange from
Leena
last night. We have done a personal exchange, and wanted it to be fall themed, since we both love fall. She made me a beautiful wall hanging, it's finished so perfectly. I love it! Thank you Leena.
Leena stitched a Bent Creek snapper chart October, over one. It is so pretty, and then added the twigs onto it, it is amazing. I am trying to figure out how she finished it so perfectly, I can not do it, no matter how hard I try :)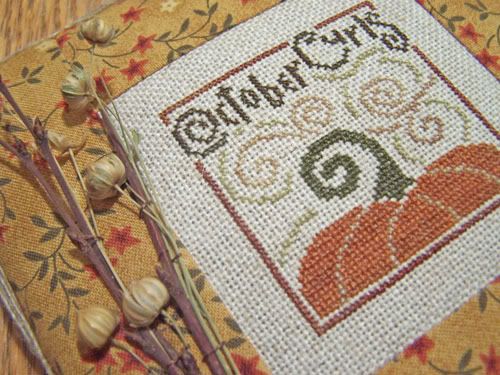 Here is the whole exchange, she was so sweet and sent a chart from my wishlist, I will be stitching this very soon :D Also, she sent a heart shaped thread keeper, and lots of finishing goodies. I am a lucky girl yes?
I've been busy working on my Bent Creek Snapperville, I want to get one of the blocks stitched this month. I think I will make the goal. I also stitched up the ornament for Courtney, I am working on finishing it! And you know that little red & white bag I made? Well, it is breeding, 6 more are in the works for Christmas gifts :)
I wanted to share what Curren made for me a few days ago. This little heart was folded in half, and on the back it says "I love you so mutch!" I just about died from the cuteness of it, and it made me cry. He is such a sweet kid!