Well, I finally got it all finished. Curren has been asking me a few times a week if it is done yet. When I told him yesterday that it was, he gave me a huge hug and said "Mom, you took forever!" and I heard Jessie say "Mom, I want a quilt too!" even though she has one :D Kids are so funny. I told Curren that I got this done really fast (I think a couple of months is fast!) He was not impressed :D
It turned out kind of big for his bed, he has a full size bed. I think it'd fit on a queen bed with no problems. I added an extra border, I had quite a few scraps left, so I did the small squares, all of the way around the quilt, I think it added a lot to it by doing that. I love how it turned out, it's a great pattern for a boy, he thinks it's cool, and that is what matters! :D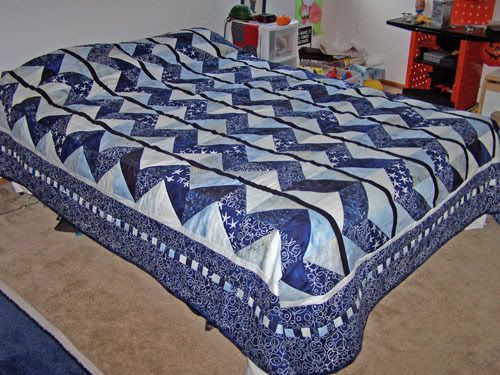 I've been able to get a lot done in the past two weeks. There are several reasons behind this. It is dark by the time I get home from work now, which means we can't go for walks, play outside, or be in the yard. It has been pouring rain quite a bit, which means you just don't go outside, adding to it being pitch black out there. And, Mark has been in China on business, which means free time at night to do whatever my little heart desires :D I have a big long list of things I worked on while he was gone. We all missed him a lot, and he got home safe today. I am so glad to see him!
I was able to make six more of the red/white pouches, I tied both of my Carpenter Star quilts, I only need to bind them and they'll be done! My ornament is finished for an exchange I am in, and I worked on Snapperville. I feel like I got a lot done, but I am kind of tired now, so we'll see how much more I get done before Christmas :)
Are you all ready for Christmas? I am not, but I never am :D I am excited for it!