I received a wonderful package from
Courtney
. We met over on the livejournal cross stitch blog awhile ago... so we have been able to get to know each other, and I am so glad that we have! We decided to do a Christmas ornament exchange this year, and she sent me this! I love it :) She says she hasn't done much finishing, but I think she's been doing it a lot, because it's perfect.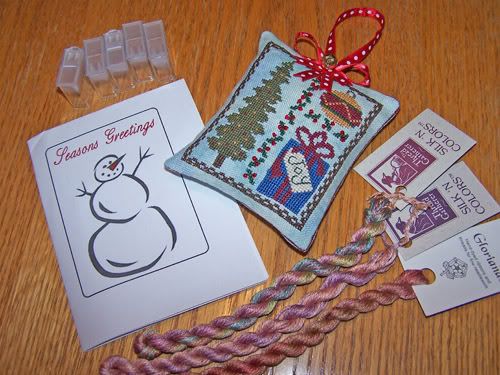 Courtney also sent some pretty silk thread, and bead containers, it's great! Thank you!
So for Christmas this year Santa brought us a new pet. If you call it a pet! Curren got a baby iguana. He named it Bullet... why? "because it's cool!" Here he is (if it is a he?) He's fast too, so Bullet is an appropriate name for this little green guy. We haven't let the dog anywhere near it, I am sure he'd be a quick snack if we did LOL!