Happy Monday to everybody! I hope you are all doing well and that you had a great weekend. The weekend was SO MUCH FUN for me. My friend Charissa came down from Washington to spend the weekend with me. She arrived on Friday night, and we both worked on a project and chatted away… I finished the American Pie quilt top that night. It kind of looks the same as the pictures from last week, except all of the blocks are sewn together now :) Isn't it pretty? I think I'll put a small 1" white border all of the way around it. I have yet to find backing for this one, I haven't seen one that has called my name yet.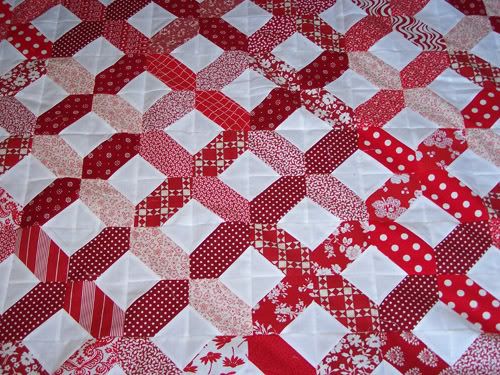 On Saturday Charissa and two of my other friends came over, and we went on a mini shop hop to our favorite quilt shops in the area. We were all looking for different projects, and all came home with something fun. I fell in love with the mini-quilts that one shop had hanging up, using Jo Morton fabrics. I got some ¼ yard cuts and a few patterns to try out. Look at the horse fabric! I love it :)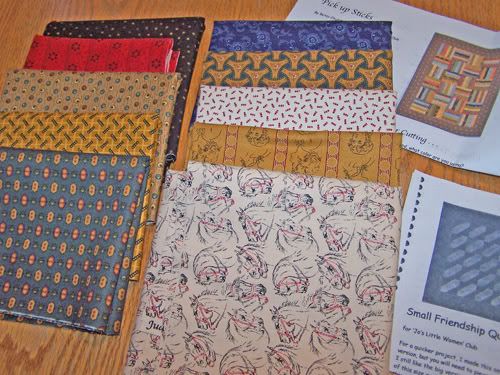 After shopping all day, and eating, we went and saw a movie. I recommend Bedtime Stories, it was so funny! Then Charissa and I stayed up late… too late really and made this bag. For our next church quilt class we wanted to make bags and I needed to have this bag up for display on Sunday… we just managed to finish it in time. The pattern was a pain, and was missing a lot of instructions, (or we were both so tired) that we had a hard time getting it finished. We kept reading and re-reading the pattern. I am pretty much re-writing the pattern for the class we are making it in. Anyway, it turned out cute, and so all was well in the end!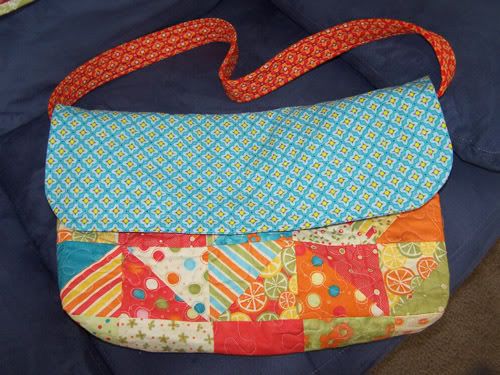 I have a new project all kitted up and ready to stitch. This is from a 2007 Gift of Stitching magazine. I'll dig out the date for you it anybody is interested in it. It's a tin finish, which I haven't done before, so I think it'll be fun to try.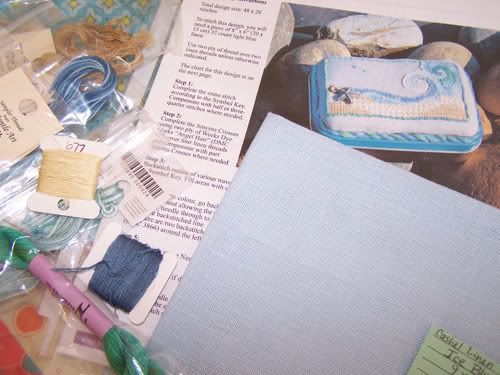 AND one last thing, I got the Four Seasons framed!!! Isn't it awesome? It's so huge, but I love it.