I got another block done! This is my third block. I don't know what to think about that seahorse, he's kind of silly looking, but I like everything else about the block. I am going to start the one next to it now, with the white house and the mermaid. After that I think I'll do the big center block with the ship. This is a very nice project to work on. Maybe I can get the next block done this month? Wish me luck.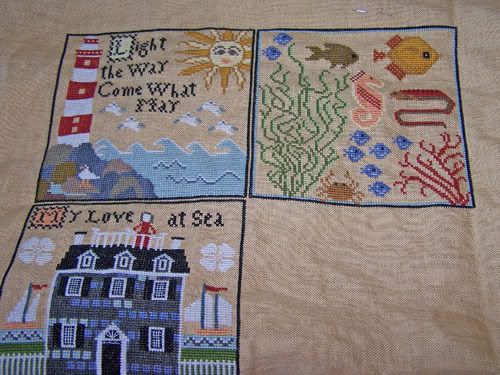 I finished my sister's baby quilt too! I need to get some pictures of that up soon. It's very cute.
There was a comment on my last post about what types of fabric I liked to stitch with. When I was first using linens and evenweaves, I liked a 28 count evenweave. It was easier for me to count the linen that way, after I got comfortable with that, I moved into the 32 count linens. That is my favorite now. I don't have a favorite type of linen that I know of, but 32 count is a nice size. I haven't attempted a 40 count or anything, it is just too small for me to do right now.
And I have a question to all of you chefs out there, what is your favorite clam chowder recipe? I'd like to learn to make it at home! Pass on the recipe if you can! Thanks :)