I had a wonderful birthday yesterday. Mark took me out to lunch, and then that evening when I came home, he and the kids had picked up the house, and then took me out to dinner. Aren't they wonderful? They even got me a cheesecake. I think I'll have to keep them all, they are so good to me. Some of my friends came by with beautiful flowers and I just feel so blessed to have all of these good people around me. Life is great!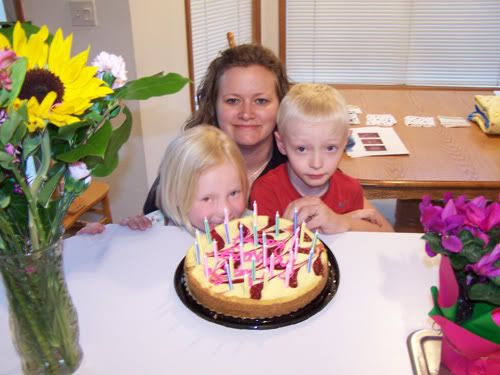 I've been a busy bee working on several projects. I have sewing ADD at the moment and can't devote my time to any one thing for very long. So, I've started several to keep me happy :) Since I had added my blog to the
Online Bloggers Quilt Festival
over on Park City Girl's blog last week, I've been slowly going through the hundreds of blogs posted there, and I've been so inspired by them. You must go look if you have not yet, there are SO many of them to look at! I've been leaning more towards working on quilts for the past several months than I have cross stitching. I am not sure why really.
My sister is due to have her baby on April 30th, which is in a few days, and her baby girl is showing no signs of wanting to come out in the world yet :) I am so excited for my sister Nikki, she is going to be such a good mommy. When she came to visit me last November we bought all kinds of fabric to make blankets with. This was the final one to finish up for her. I decided to practice some machine quilting on it, so I put a thin batting between the two flannel layers, it is so soft and warm!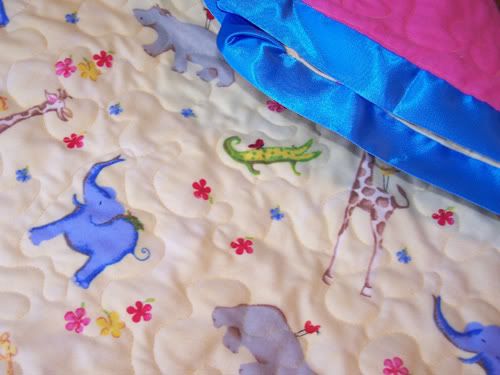 I got the middle section sewn together for the little Schnibbles pattern I am working on, isn't it pretty? I am going to give it to a good friend of mine when it's done. Not much to do on it now, so I plan on working on this during the week.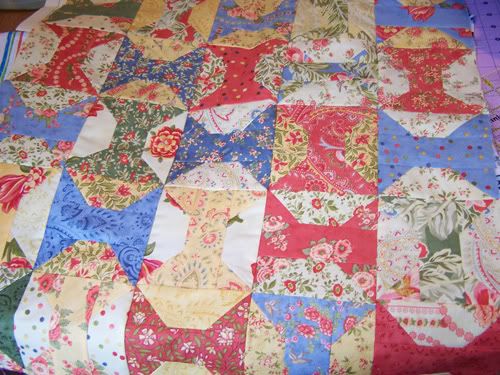 And I've started cutting out the quilt for my sister in law, who is due to have a baby boy in June. I am making this one much the same as what
I made for my sister
last month. I have some blue minkie fabric I'll put in this as well.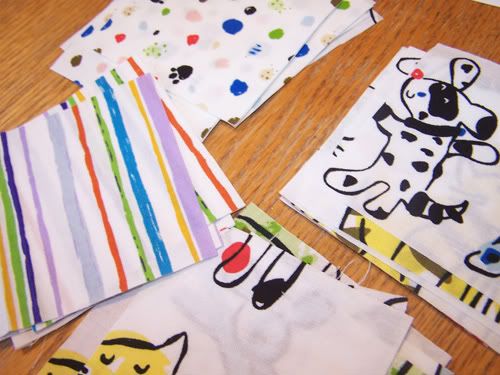 My friend Colleen and I got together on Saturday to plan what quilt we'll be making for the church quilt group. I found a great quilt over on the c
razymomquilts
blog called
Flea Market Fancy
. I loved it, and so did Colleen. She is making a quilt similar without the sashing, and I'm doing it with the white sashing. I have lots of
Heather Bailey
fabric I plan to use for it, I am happy to finally be using it. We want to have the quilts out on display this summer and start teaching it in the fall. I can't wait to cut into this quilt!!!
That is all for now, more to share this weekend :)