So, I've been thinking about all of these projects that I'd like to get done in the upcoming summer months. There are so many! How about you, do you have any plans on what you want to make this summer? Anything new to you, that you've never done before? It's pretty fun to think of all of the things you want to try.

Jessie, my 7 year old, has commissioned me to make her some table runners for her dresser and armoire. She even went so far as to go through my stash and pick some things out. She is a girl after my own heart :) Well, she saw the Pop Garden quilt I am making right now, and she really likes that fabric. So, I am thinking I'll get some more of it and make 2 quilts (I've already got 1 started) for her bunk bed, so they match… some table runners and some curtains too. Then maybe we can paint her room and spiff it up for her.
Okay, these pictures were taken several years ago, but the room is essentially the same, no curtains, mis-matched blankets on the bed, etc. It just needs to be "put together" I think. Consider is a before photo :D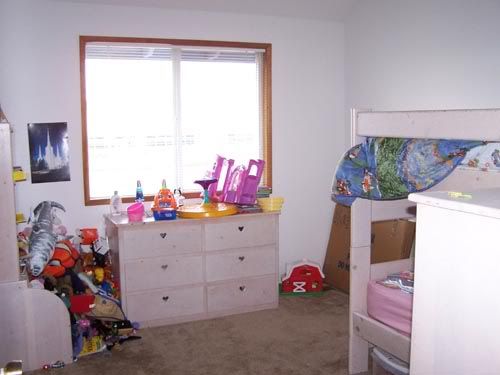 I want to make a skirt, or a few anyway! The book I picked up
Sew What! Skirts
is going to be a lot of fun, so many options. Have you made a skirt before?
And of course there are some old UFO in my closet that need some love. I hope to get at least one of those quilts completed this summer. There are several Christmas tablerunners I've begun too, and I want to get them done so I can give them as gifts at Christmas time.
Do you think of your handmade Christmas gifts now as well?
Mark and I have been mulling over updating our kitchen and dining room floors, and our downstairs bathroom. We've already updated our living room, and we'd like to finish the downstairs now. The problem is, there are too many options, hardwoods, or tile? What color of paint? And the list goes on… it is fun to think about, just hard to nail it down you know. It doesn't help that I have subscribed to
Coastal Living magazine
.
I like every single room pictured in them, and it makes it really hard to decide LOL!