Hey, guess what you guys??? School is out!!! I know, I should not be so excited about it, the kids should be more excited than me. I just am so glad because that means no more making lunches, no more getting up extra early, no more homework, for a few sweet months. I get to keep my kids and we get to relax and play. I am so happy. Here are my kids yesterday after school. Happy kids!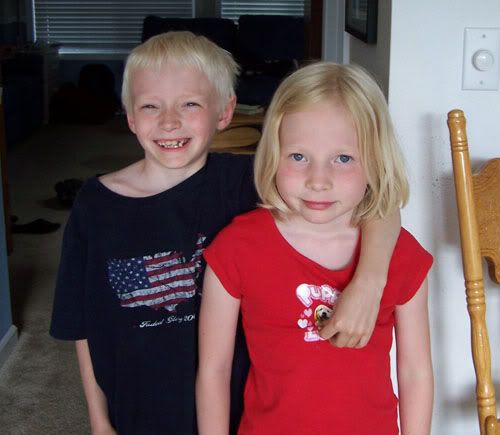 I've been sewing again. I finished the top last night for the Pop Garden quilt. I found this pattern on the
Crazymomquilts blog
. Isn't it adorable? I plan on making two of these, for Jessie's bedroom. She has a bunk bed.
And here's a close up. I pieced the backing for it last night too, so I can just pin it all down and start quilting it sometime soon. I am going to use striped fabric for the binding. Then I'll start the second one. I bought lots of extra yardage of this fabric for pillow cases, table runners, and curtains. It's going to be one bright bedroom!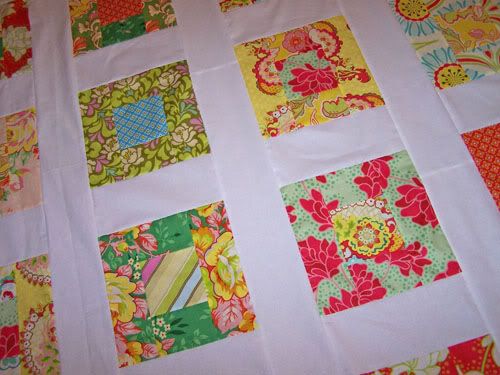 A few months ago I bought a fat quarter pack of Shangri-La from Nicole at
Sister's Choice Quilts
. She makes the most beautiful quilts, you must go and see her blog. She likes using the Miss Rosie's quilt patterns like I do, and it's fun to see what she is always up to.
So, I have started cutting up the Shangri-La fabric. I've loved this fabric ever since it came out. I made a small quilt out of it, and have it on the back of my couch. This quilt is from a magazine, and it's designed by
Heather Mulder Peterson
. I've been having fun making it, it's a little more slow going (lots of piecing). I've been doing easy quilts lately, this one has slowed me down. I am not complaining, just saying :D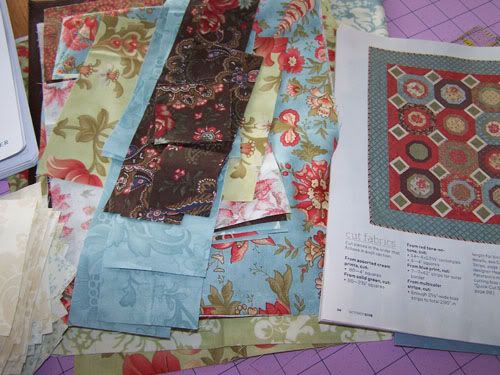 What are your plans for the summer months? Are you going anywhere exotic, or just sticking around home? We plan on sticking close to home. Camping, and the beach are what I've got in mind for the weekends coming up. Mark's family is coming to visit next week. It'll be a fun time! Mark's sister had her baby on Monday, and all is well. I am so relieved. I am an Aunt again! Lucky me. Enjoy the rest of your week.