Well, I finished two more small quilts this week. I am happy with them both! I like small quilts, you can get them done quick!
This is the pattern called XRated by Miss Rosie's Quilt Company. A Schnibbles pattern again. Aren't these patterns great? I have 2 more now to do someday soon. I did stipple quilting all over it in a dark gray thread. I am happy with how this one turned out. The fabric line is called Neptune by Tula Pink. I think it is beautiful fabric. But anything that has to do with the ocean I tend to love.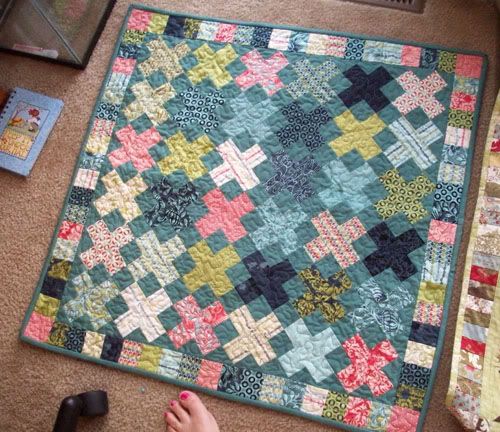 And I finished my "cash" quilt for my new nephew. I backed it with a light yellow flannel, and did stipple quilting on this too. So fun!! My nephew's name is Casch, which is why I made the money quilt, we couldn't resist the fun. Isn't little Casch the cutest baby??
I have really been enjoying the quilting lately. Now that I have become more comfortable with it, it's rewarding to be able to do this now. For those of you wanting to try it out, don't be shy! You have to give it a shot. Let me know if you do!
My in-laws and sister in law will be visiting us this week, so my sewing machine is getting put away for awhile. I can't wait to see them, it'll be wonderful!!! Have a great week everybody.